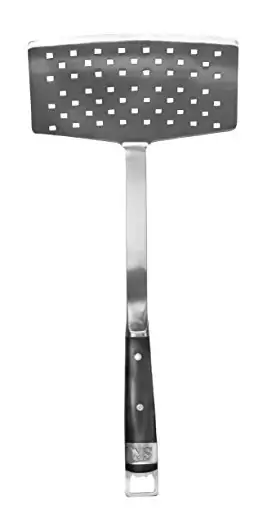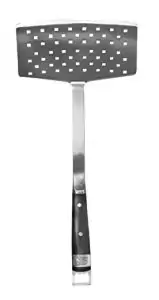 I'm always on the lookout for really cool grilling accessories and I found another one called the Best of Barbecue Fish Spatula from Stephen Raichlen. When I grill, I don't only grill meat. We really love to grill fish and I especially enjoy grilling a whole fish fillet on my Weber 22″ Charcoal Kettle Grill.
I've found that in the past, when grilling a large fish fillet, I would need two spatulas to flip it properly. Well, certainly not with the Best of Barbecue Spatula! I just need the one Spatula and it works like a charm as you will see in the youTube video below. I'll also include a bunch of images of this excellent grilling accessory in action!
Sometimes you just need a specialized accessory in your grilling arsenal but you don't have to use this Fish Spatula only for fish. You could use it for burgers or any other type of meat if you like.
Here is the youTube video to which I was referring which shows me grilling up a good-size salmon fillet for a Sunday night dinner on my deck with my wife.
(Click on image for larger view)

As you can see from the above images, this spatula works perfectly for a fillet, even a large fish fillet as seen above. If you think that you could use a Best of Barbecue Fish Spatula in your grilling arsenal, I can tell you that you cannot go wrong with this solid, well-built grilling accessory!
Bob started this passion site, Life with Grilling, in 2012. Life with Grilling has been a trusted source for grilling and barbecue tips, techniques, and accessories for over 10 years. Bob has been charcoal grilling for most of his adult life and smoking meats using a personally-configured stick-burner Brinkmann smoker since 2012.
His passion for charcoal grilling was instilled into him by his father who used charcoal on a basic grill to cook for his family on warm summer nights. Charcoal grilling and tending to his smoker has been a happy pastime of Bob's, especially as he enters his retirement years. His love of all things grilling and smoking has allowed him to review the best charcoal grills and grilling accessories available in the martketplace and to develop many recipes, grilling tips, and techniques over the years. He is eager to share his lifelong grilling experiences and expertise through Life with Grilling!