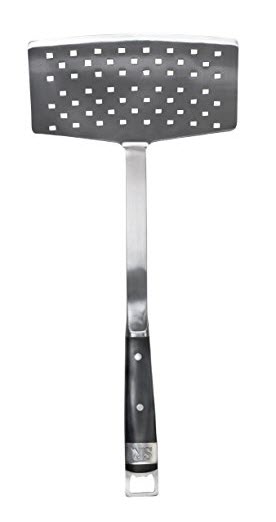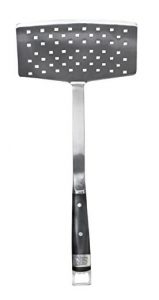 I'm always on the lookout for really cool grilling accessories and I found another one called the Best of Barbecue Fish Spatula from Stephen Raichlen. When I grill, I don't only grill meat. We really love to grill fish and I especially enjoy grilling a whole fish fillet on my Weber 22″ Charcoal Kettle Grill.
I've found that in the past, when grilling a large fish fillet, I would need two spatulas to flip it properly. Well, certainly not with the Best of Barbecue Spatula! I just need the one Spatula and it works like a charm as you will see in the youTube video below. I'll also include a bunch of images of this excellent grilling accessory in action!
Sometimes you just need a specialized accessory in your grilling arsenal but you don't have to use this Fish Spatula only for fish. You could use it for burgers or any other type of meat if you like.
Here is the youTube video to which I was referring which shows me grilling up a good-size salmon fillet for a Sunday night dinner on my deck with my wife.
(Click on image for larger view)

As you can see from the above images, this spatula works perfectly for a fillet, even a large fish fillet as seen above. If you think that you could use a Best of Barbecue Fish Spatula in your grilling arsenal, I can tell you that you cannot go wrong with this solid, well-built grilling accessory!