When it comes to grilling, I always err on the side of safety. Since I grill on my deck I always make sure I move my grill far enough away from the deck railing since I'm always cognizant of any type of fire hazard. When it comes to hand protection I opted a while back for Weber Grill Gloves.
I bought mine about a year ago and have been using them every time I grill. I am particularly aware to always use them when I am about to pour the hot charcoal (images below) from my Weber Rapidfire Chimney Starter that I wrote about in this article. If you have never used a chimney starter this article will give you the step-by-step procedures with images since I got a question asking about how to do so from one of my readers.
What I particularly like about these Weber Premium Grill Gloves is that they are gloves! Yes, I am not a fan of the mitts because I really like to be able to use my fingers and I think it is much safer trying to handle anything hot when you have the ability to use your fingers. These gloves are so easy to use and keeps the hot away from my hands. Another great aspect of these grill gloves is that they stretch about halfway up my arm for forearm protection and they also have a silicone grip pattern on on the palm which really help for gripping.
(Click on any of the images below for a larger view)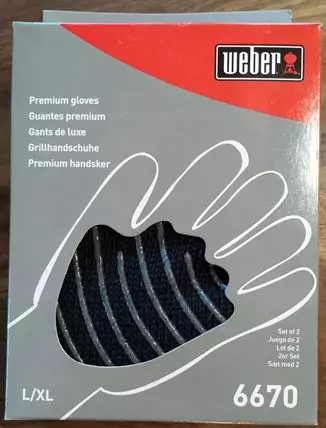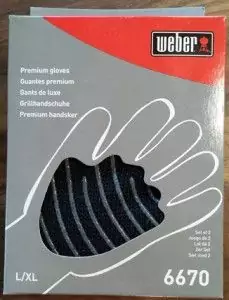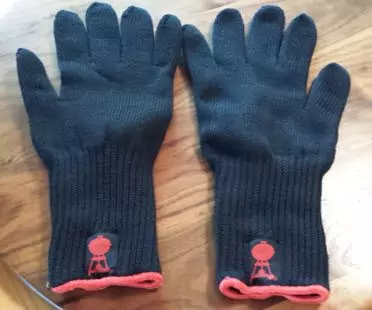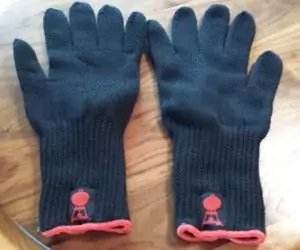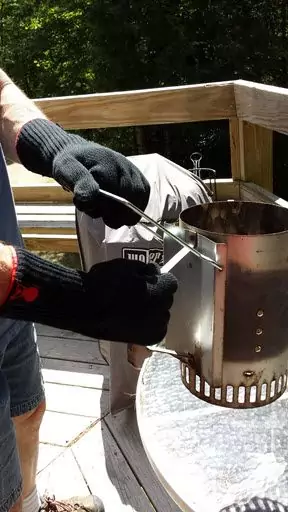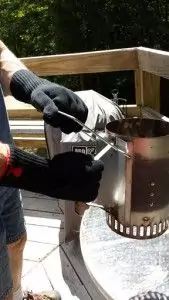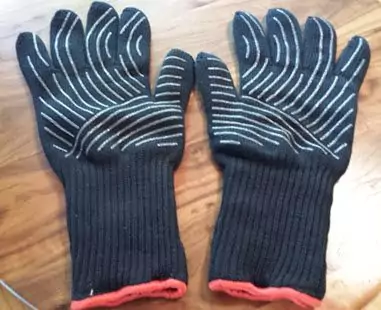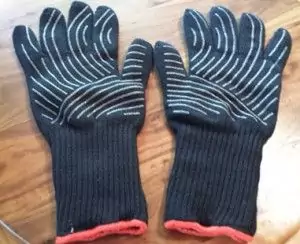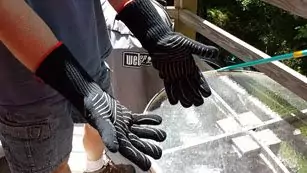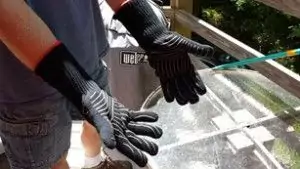 As you can note from the image above, the gloves come halfway up my forearms protecting me from any contact with sparks, flames, or hot surfaces in this area. The gloves are comfortable and warm when grilling in the winter months.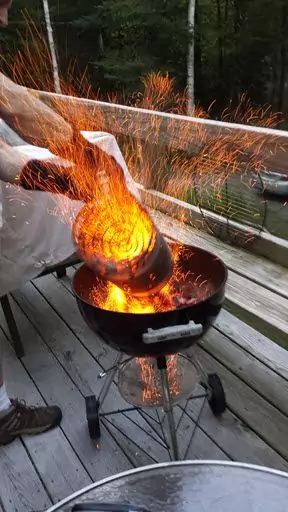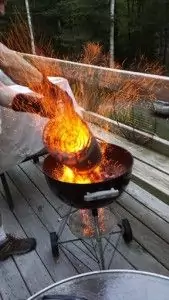 Features of the Weber Premium Grill Gloves
Silicone grip pattern on the palm for a strong grip.
High temperature gloves and warm in colder months.
Must-have accessory for charcoal grilling or barbecue.
Dimensions: 5.1 x 8 x 2.1 inches ; 6.7 ounces

If you too care about safety when you grill, you just might want to invest in the best which is what I do when it comes to grilling or barbecue. Weber is a top quality name in grilling so you simply can't go wrong with the Weber Premium Grill Gloves. I love mine and I know that you will love yours…
Bob started this passion site, Life with Grilling, in 2012. Life with Grilling has been a trusted source for grilling and barbecue tips, techniques, and accessories for over 10 years. Bob has been charcoal grilling for most of his adult life and smoking meats using a personally-configured stick-burner Brinkmann smoker since 2012.
His passion for charcoal grilling was instilled into him by his father who used charcoal on a basic grill to cook for his family on warm summer nights. Charcoal grilling and tending to his smoker has been a happy pastime of Bob's, especially as he enters his retirement years. His love of all things grilling and smoking has allowed him to review the best charcoal grills and grilling accessories available in the martketplace and to develop many recipes, grilling tips, and techniques over the years. He is eager to share his lifelong grilling experiences and expertise through Life with Grilling!