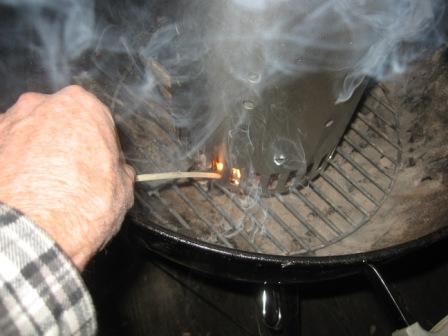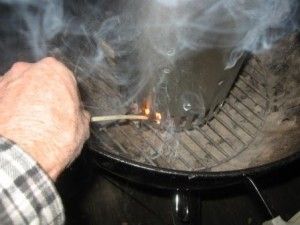 After people hear about using a charcoal chimney starter, they often are a little puzzled about how to light a charcoal grill with a chimney starter.
One of my readers sent me an email asking me how to use the chimney starter that they just purchased. Well, I use one whenever I grill so I decided that a sequential set of images will tell the story of how to light a charcoal grill with a chimney starter.
The images seen below show how to use a Weber chimney starter step by step or a detailed description of lighting charcoal without lighter fluid. Within each image, there is a description of what is occurring in each step. The grill used in these images is my Weber One Touch Silver kettle grill. The charcoal chimney starter is my Weber Rapidfire Chimney Starter and it is the best chimney starter on the market in my opinion. If you are interested in more info on either one of these items just click on their names in blue above.
Step by Step Description of How to Use a Chimney Starter
(Click on any of the images below for a larger view)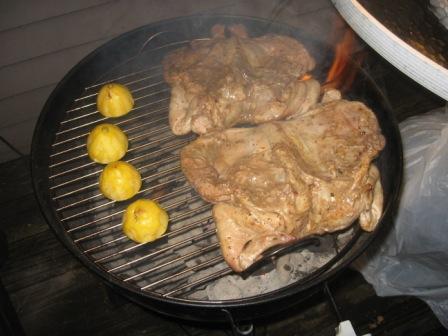 If you want more information on the Weber Rapidfire Chimney Starter or the Weber One Touch Silver kettle grill seen in these images just click on their name in blue above. This will bring you to a page on this site that will go into more detail on these quality Weber items and, if you're interested in making a purchase, a link in which you can do so..
Bob started this passion site, Life with Grilling, in 2012. Life with Grilling has been a trusted source for grilling and barbecue tips, techniques, and accessories for over 10 years. Bob has been charcoal grilling for most of his adult life and smoking meats using a personally-configured stick-burner Brinkmann smoker since 2012.
His passion for charcoal grilling was instilled into him by his father who used charcoal on a basic grill to cook for his family on warm summer nights. Charcoal grilling and tending to his smoker has been a happy pastime of Bob's, especially as he enters his retirement years.
His love of all things grilling and smoking has allowed him to review the best charcoal grills and grilling accessories available in the martketplace and to develop many recipes, grilling tips, and techniques over the years. He is eager to share his lifelong grilling experiences and expertise through Life with Grilling!