I've had a number of questions from readers on how to cook a whole fish fillet on a Weber grill. Maybe it's because people are always looking for healthier ways to eat and fish certainly fits that bill. I can certainly tell you one thing – a Weber grill is awesome for grilling a whole fish fillet.
Typically when it comes to using my Weber 22" Kettle Grill, I grill every type of meat imaginable from rib-eye steaks to pork chops to whole chickens. But if you are looking for a healthy alternative to meat, there is nothing like grilling a fish fillet.
This article and video below is all about using my Weber 22" Kettle Grill to grill a Steelhead Trout filet. It's essentially half of the fish without the bones and the head with a flesh side and a skin side. You can find whole fish fillets in any good fish market or supermarket that carries fish.
Here is the youTube video of me grilling a whole fish fillet on my 22" Weber Kettle Grill.
We usually start out with marinating the fish in a plastic bag filled with a balsamic vinaigrette but you can marinate it in anything that you like. Or, if you'd prefer just the fish by itself that is always an option. But I would certainly recommend some type of marinade to add an extra layer of flavor and moisture to the fish.
Images of how to grill a whole fish fillet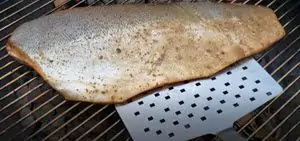 We usually let it sit in the plastic bag for at least 3-4 hours in the balsamic vinaigrette marinade so by the time you get to actually placing it on the grill, the marinade has had a chance to permeate the fish.
As you will see in the video above, I also add some wet wood chips which was a combination of 3 types of wood – apple, hickory, and oak (Kinsgford brand). You obviously can grill the fillet without the wood chips but the addition of the smoke aroma and flavor is so powerful especially with this type of fish fillet.
How to Grill a Whole Fish Fillet on a Weber Grill
Step 1 – Place the fillet in a plastic bag with your marinade of choice for at least 3-4 hours before grilling.
Step 2 – Soak wood chips of your choice for at least 3-4 hours as well, preferably more.
Step 3 – Light your chimney starter and pour the charcoal after the flames start flowing out the top of the unit.
Step 4 – After pouring the charcoal, place your grill grate (preferably Weber's hinged grate) into the grill.
Step 5 – Cover the grill and let the grill heat up for 10-15 minutes with dampers open (top and bottom). You want to get the grill good and hot!
Step 6 – After 10-15 minutes, add your wet wood chips onto the charcoal and cover for a minute or two with dampers open.
Step 7 – Uncover and place the fillet onto the grill grate with a set on barbecue tongs FLESH SIDE DOWN first!
Step 8 – Cover the grill and let it cook for about 5-8 minutes flesh side down to acquire a nice sear on the fillet.
Step 9 – After 5-8 minutes, uncover the grill and flip the fillet onto the skin side using a Best of Barbecue Fish Spatula or two spatulas.
Step 10 – Cover for a few more minutes and then uncover to check for doneness. You could cut a piece of the fish and check the internal flesh. You don't want to overcook a fillet as it will dry out quickly!
Final Step – Remove the fish fillet from the grill with a Fish Spatula or two spatulas and serve!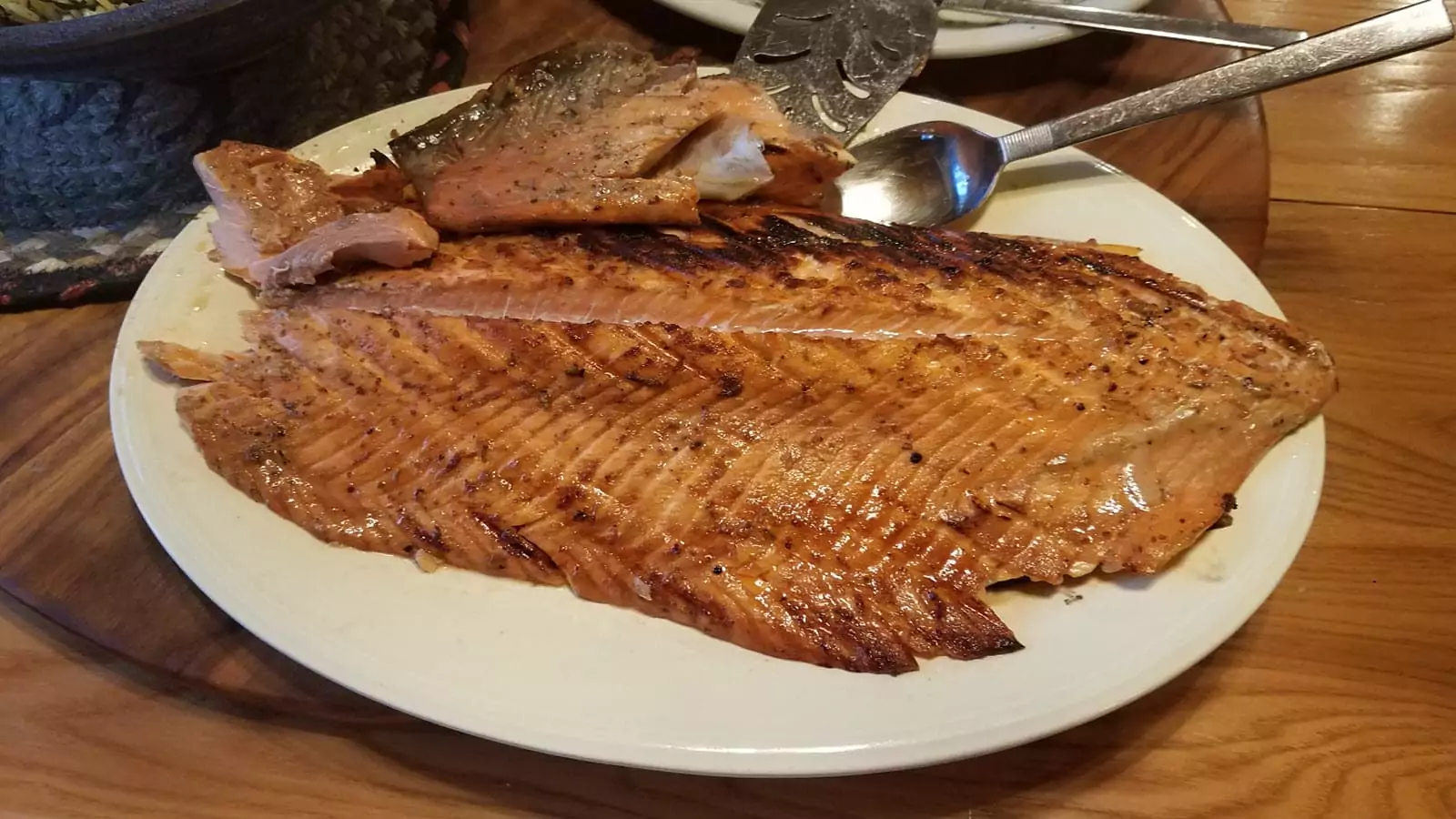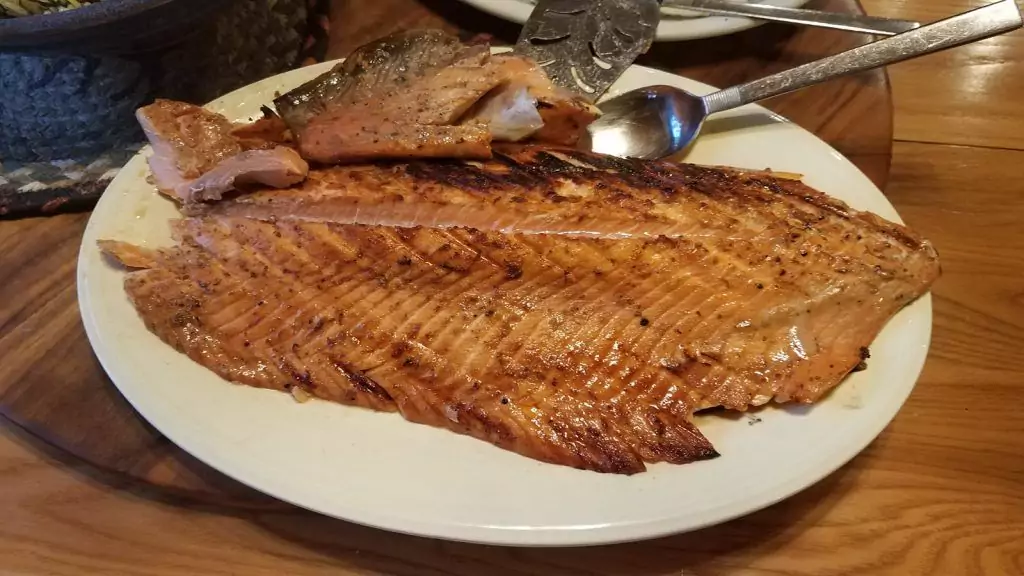 It's important to remember that grilling anything, especially fish, requires some practice as to when it is completely done. Obviously the size of the fillet and the temperature of the grill are the biggest factors as to the length of cook time.
Fish can be grilled to be a bit rare as it will continue to cook when it is taken off of the grill (as meats do). Another reason for marinating is to help with keeping the fish moist throughout the cooking process as well as to add that extra level of flavor. Also, remember if you shut the vents of your grill right after you take the fillet off, you'll have used charcoal for your next cook.
Believe me, there is nothing more tasty than a fish fillet grilled the right way with the right amount of smoke flavor. It's actually difficult to describe but once you taste it you will certainly be able to relate. I hope this article teaches you how to grill a whole fish fillet on a Weber Grill!
If you have any questions or comments please leave them below in the comments or you can contact me directly via my Contact Me page.
Bob started this passion site, Life with Grilling, in 2012. Life with Grilling has been a trusted source for grilling and barbecue tips, techniques, and accessories for over 10 years. Bob has been charcoal grilling for most of his adult life and smoking meats using a personally-configured stick-burner Brinkmann smoker since 2012.
His passion for charcoal grilling was instilled into him by his father who used charcoal on a basic grill to cook for his family on warm summer nights. Charcoal grilling and tending to his smoker has been a happy pastime of Bob's, especially as he enters his retirement years. His love of all things grilling and smoking has allowed him to review the best charcoal grills and grilling accessories available in the martketplace and to develop many recipes, grilling tips, and techniques over the years. He is eager to share his lifelong grilling experiences and expertise through Life with Grilling!