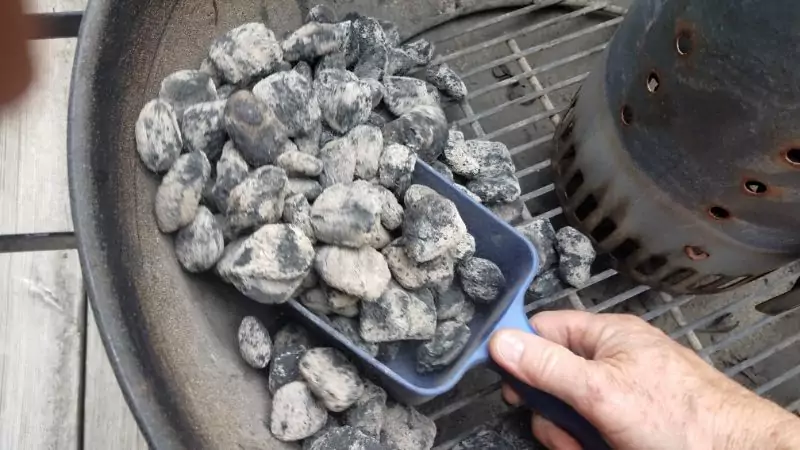 I have received a number of questions from readers along the lines of can you reuse charcoal to save money? This article will not only answer that question but will give you precise steps in words, images, and a YouTube video.
Old charcoal is oftentimes a wasted commodity if you grill with charcoal briquettes and lump charcoal like I do. Some people will simply toss them away after they have had their cooks but I learned a long time ago what to do with used charcoal and that you can certainly relight charcoal the next time you grill.
In this day and age, being able to conserve on anything, charcoal briquettes included, is the smart thing to do. Obviously, those briquettes need to be dry to reuse them so in my charcoal grill accessories article I stress the fact that I always use a Weber grill cover on all of my Weber grills.
Can you Reuse Charcoal to Save Money?
The simple answer is YES and I've been relighting charcoal for as long as I've been charcoal grilling. But there are certain steps you should take to ensure that you maximize the charcoal you've previously used and I'll identify them below.
Steps to Reuse and Maximize Used Charcoal for Relighting
When you are done grilling with charcoal shut the top and bottom vents immediately to maximize the charcoal you will save for the next cook. Never move them to another container if they are still hot. If you do, that other container could become another grill, the charcoal will continue to burn, and you may have just created a fire hazard.
On the day of your subsequent cook there will be charcoal still in your grill sitting on the lower grate. This is the previously-lit charcoal you will be utilizing in addition to new charcoal for your new cook. The assumption is that the old charcoal is cool and this cook is at least 24 hours from your previous cook.
Move the old charcoal around with a utensil or a scoop so that the small pieces fall through the bottom grate. Those pieces are too small to reuse. After that you will be left with large enough pieces of old charcoal to relight.
Grab your charcoal chimney starter. Pour some fresh charcoal briquettes or lump charcoal into the chimney starter. You have a couple of options here. You can either sandwich your older charcoal with new charcoal or simply eyeball how much old charcoal you have left and just add new charcoal to the bottom of the chimney starter and add the formerly-utilized charcoal above it. I typically use a plastic or metal scoop to load up the charcoal from your previous cook. If there is more space than you estimated at the top of the chimney starter, just add some fresh charcoal on top.
At this point you have now efficiently reused old charcoal within your chimney starter. One thing you should remember is that after the chimney is lit, the level of the charcoal will be slightly lower than if you used totally fresh charcoal. You will quickly learn from experience.
Add paper or Weber Lighter Cubes below the chimney starter, grab your torch lighter or a match, and kick off the charcoal lighting process!
So, if someone asks you what to do with used charcoal you'll know what to tell them. I put together the above steps in pictures as well as a video that you can view below.
Step-by-Step Process for Reusing Old Charcoal in Pictures
The above steps are using a sandwich method by starting and ending with the fresh charcoal. You could just start with fresh charcoal and finish up with previously-used charcoal. Whatever works for you. Both methods work well!
My YouTube Video – Can I Grill with Used Charcoal Briquettes?
Here is a YouTube video I created to show how I reuse old charcoal each time I use my charcoal grill.
Can you Reuse Charcoal – a Recap
If someone asks you what to do with used charcoal, I hope it is crystal clear that you certainly can relight old charcoal in your subsequent cook. Saving money has always been a priority for me and charcoal grilling is also one of my priorities. Hand in hand, it made sense to me to maximize the use of the charcoal briquettes and lump charcoal that I pay for with my hard-earned money.
I hope this article has clearly given you the steps needed to efficiently maximize the charcoal from a previous cook so that you can always recycle and reuse the leftover charcoal. I love grilling with charcoal and I hope this article was informative. Happy charcoal grilling!
Bob started this passion site, Life with Grilling, in 2012. Life with Grilling has been a trusted source for grilling and barbecue tips, techniques, and accessories for over 10 years. Bob has been charcoal grilling for most of his adult life and smoking meats using a personally-configured stick-burner Brinkmann smoker since 2012.
His passion for charcoal grilling was instilled into him by his father who used charcoal on a basic grill to cook for his family on warm summer nights. Charcoal grilling and tending to his smoker has been a happy pastime of Bob's, especially as he enters his retirement years. His love of all things grilling and smoking has allowed him to review the best charcoal grills and grilling accessories available in the martketplace and to develop many recipes, grilling tips, and techniques over the years. He is eager to share his lifelong grilling experiences and expertise through Life with Grilling!