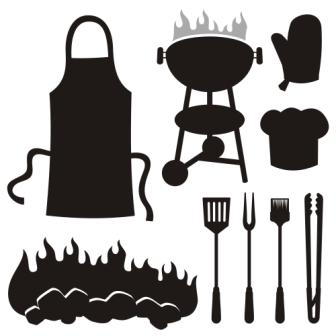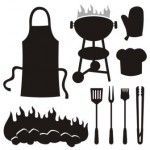 I love to hunt for the perfect charcoal grill accessories because charcoal grilling is almost like a religious experience for me. I left my propane grill to rust in the corner of my back deck years ago. I use it now for a storage container for some of my grilling paraphernalia and, at times, I heat up some water on the side burner when we lose power during a storm.
I own a Weber Smokey Joe small charcoal grill and a Weber One-Touch kettle grill. Needless to say, I think that Weber manufactures the best charcoal grills around. Well, when it comes to charcoal grilling, there are some essential or must have charcoal grill accessories, in which you should invest. Hopefully this list will help you get set-up for a great charcoal grilling experience.
Charcoal Storage
When you think of charcoal grilling, charcoal storage is probably not first on the list. To be honest, having a watertight sealed container next to my charcoal grill with dry charcoal is very important. My charcoal storage container of choice is the Kingsford Kaddy which is a rugged plastic charcoal container. I own two of these to hold my charcoal and charcoal grill accessories
The container shown on the left is the exact same container that I have owned for years, although my container is black with the same blue top. It has kept my Kingsford charcoal dry in all of the elements such as rain, snow, sleet, and hail. It is basically indestructible, has a convenient door in the cover, and perfectly fits a 20 lb bag (or smaller) of charcoal. This awesome charcoal storage container allows you to store your charcoal outside without cluttering up your house or shed. When we want to use our Brinkmann water smoker or our Weber grills, I just head straight for my Kingsford Caddy and I know I'll have dry charcoal always there and ready for a great day of barbecue.
Charcoal Ash Disposal
Charcoal ash disposal should be a concern if you love to grill with charcoal. I also love to use my fireplace so I actually use this Behrens Locking Lid Can to dispose of the ashes in my fireplace as well as the ashes from my charcoal grills. The best thing about this can is the locking lid which is great if the ashes are still hot.
Since my charcoal grills are located on my back wooden deck, I am always concerned about a potential fire hazard. Having the proper charcoal storage container is extremely important to me. After disposing of hot ashes, I always tend to use a water spray bottle to fully extinguish the hot embers. The way I look at it, you can never be too careful. Since I also love to grill with charcoal in the wintertime, if there is any available snow, I will throw a handful of the white stuff on the hot ashes.
Another rather unique but very popular grilling accessory in which I recently invested is a Weber rib rack which is quickly becoming one of my favorite charcoal grill accessories since we love our ribs!
I hope this is a comprehensive list of must have charcoal grill accessories that will help you in your future charcoal grilling experiences. If you invest in these quality items, your life with grilling and barbecue will be as gratifying as mine. If you have any questions on any of these products, please leave them in the comments or use our Contact Us page.