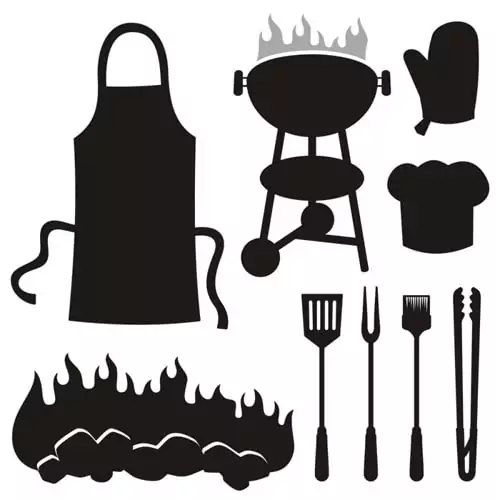 I love to hunt for the perfect charcoal grill accessories because charcoal grilling is almost like a religious experience for me. I left my propane grill to rust in the corner of my back deck years ago.
I am now strictly a charcoal griller. I use my propane grill now for a storage container for some of my grilling paraphernalia and, at times, I heat up some water on the side burner when we lose power during a storm.
I own a Weber Smokey Joe small charcoal grill, an 18″ Weber One-Touch kettle grill, and a Weber 22″ kettle grill. Needless to say, I think that Weber manufactures the best charcoal grills around and they do not pay me to say that.
Well, when it comes to charcoal grilling, there are some essential or must have charcoal grilling accessories, in which you should invest. Hopefully this must have grilling accessories list will help you get set-up for a great charcoal grilling experience.
Charcoal Grill Accessories – My Essential List
Investing in a chimney starter is a must-have when it comes to charcoal grilling. Gone are the days where you douse your charcoal with charcoal lighter and watch the small explosion when you toss a match onto the pile. The Weber Rapidfire Chimney Starter shown here is my go-to chimney starter.
A charcoal chimney starter is very easy to light. You can either fill the bottom of the charcoal chimney starter with newspaper or you can use a flammable material such as Weber Lighter Cubes. Light the newspaper or lighter cubes with a torch lighter or a match and wait. In about 20 minutes the flames will be shooting out the top.
And don't forget you can always reuse charcoal that you have used in a previous cook to save money. Just re-add the old charcoal to the chimney starter with fresh charcoal.
If you decide to reuse charcoal you will want to start with some fresh charcoal at the bottom then the used charcoal and some fresh charcoal on top.
2. Windproof Butane Gas Torch Lighter
An investment in a windproof culinary torch butane lighter has taken me some time but I think this grilling tool is a must-have. At least it is for me. I used to use matches or a really cheap lighter that would stop working in about a month.
But, at some point I just decided to buy a torch lighter, the exact one seen here and never looked back. It is refillable, works when it's very windy, and is just always reliable.
A windproof butane gas torch lighter is certainly a must for anyone who enjoys grilling or barbecue or if you want to use it in the kitchen.
3. Lighter Cubes
Weber lighter cubes are rather unique. They are simply another option for lighting a charcoal chimney starter. I actually did a Weber Lighter Cubes Review and found them to work really well.
They actually resemble small marshmallows and you can place one or two under the chimney starter, light the cube(s), and the fire will ignite the charcoal above.
I found that they worked comparable to using paper but you don't have to fuss with finding newspaper and crumpling them up and stuffing them into the chimney starter.
4. Electric Torch Fire Starter
If you don't have the patience to wait for the fire to climb up the chimney starter, you could invest in an electric torch fire starter like the one shown here. It's not essential, but it is if you're in a hurry.
The Electro-Torch fire starter allows you to easily light your charcoal barbecue, wood burning fireplace, campfire or fire pit without using matches or starter fluids.
So, it's essentially a substitute for a charcoal chimney starter but you can use it to start your fireplace or outside fire pit. One drawback is that it is corded and requires electricity. If you have access to a plug on your desk or can use an extension it might just work for you.
5. Instant Read Thermometer
I was given an instant read thermometer as a gift from my brother a couple of years ago. Ever since I've been wondering why I didn't purchase one on my own years earlier.
It's important that you know the internal temperature of any beef, pork, or poultry so that you don't pull it off of your grill too quickly.
I also own an offset barbecue or stick-burner and I need to know the internal temperatures of my pork butt or ribs at the time I'm ready to take them off. There are many different models of instant read meat thermometer available but most of them work very well. The Lavatools Javelin shown here is a highly-rated instant read thermometer.
6. Long Locking Grilling Tongs
Grilling tongs or bbq tongs are another must-have charcoal grilling accessory for any avid charcoal griller. It is imperative that you purchase tongs that have two specific features. They should be long enough like the ones shown here to keep you safely from the heat of the charcoal or fire.
The long grilling tongs shown here are 16″ long which is sufficient to keep you safe from the heat. The other important feature is that the bbq tongs should be locking. Once you start using tongs to pick up a chicken on your grill or to turn your sirloin tips, you'll quick realize that the locking feature is a must!
7. Fish Spatula
A fish spatula is a little extravagance that I happened to invest in a number of years ago. I tend to grill whole fish fillets on my Weber charcoal grills. Depending on the size of the fillet, I used to have to use two spatulas to flip it.
Now with a spatula that is specifically made for fish, I just need to use this one fish turner instead of using two regular spatulas.
If you too, like to cook full fish fillets on a charcoal grill, this type of fish turner or fish spatula is one you won't want to be without.
8. Ash Rake
An ash rake is a specialized charcoal grilling accessory that I use every time that I grill. When you pour the charcoal from the chimney starter into your grill, there is always a need to move around the red-hot charcoal to get it laid out properly. The Vankey 21″ BBQ Ash Tool shown here will do the job.
Maybe your using indirect grilling. If so, you need to move the charcoal into one area of the bottom of the grill. If you are using straight direct grilling you want to spread the hot charcoal evenly on the bottom of your grill.
You could actually use a set of metal tongs or a wooden stick to move around the hot charcoal but using an ash rake or an ash tool like the one one shown here is the safer option. It keeps your hands away from the hot coals and it's made specifically for this purpose. My investment in an ash rake has been a smart one.
9. Grill Cleaning Brush
It's imperative that you thoroughly clean your grill grates after using them with a grill cleaning brush. Cleaning a grill should just be something you do regularly without even really thinking about it.
You could either clean the grill when it's hot or you can wait until it has cooled down and clean it before you use the grill the next time. The choice is essentially up to you.
If you don't feel comfortable using a wire grill brush like the one shown here you could use a grill scrubbing stone which is made of ecologically sound material. These break down over time so you'll have to replace them but if it makes you feel safer they are a good option.
10. Basting Pot and Brush
As an avid charcoal griller, I use a mop sauce oftentimes when I am charcoal grilling. I own a mop bucket and sauce mop and love to use it to mop my whole chicken when I am indirectly cooking one on my Weber grill.
The cast iron basting pot and brush on the left is great because it is well made and you can even place it on top of your grate while you are mopping your chicken or whatever meat or poultry you are using it for.
Some people ask me if I really need a specialized mop and bucket to baste my poultry or meat and I say it just adds more fun to the process. If you have a basting brush it will do the same thing.
11. Hinged Cooking Grate
A hinged cooking grate is a must-have for your charcoal grill. If you are going to be a charcoal griller you will also be purchasing wood chips like Hickory, Apple, or Cherry that you will soak in water before using them. I even make my own smoking chips.
The one on the left is a Weber hinged cooking grate. With a hinged grate, after you pour your hot coals into your grill, you can simply raise the hinged part and place your wet smoking chips in there onto the hot coals.
The wet wood chips will smoke and impart a distinct smell and taste to whatever you are cooking. The hinged grate allows you to add the chips whenever you need to. Weber also makes a hinged grate for their 18 1/2″ kettle grill as well.
12. Cast Iron Grill Grate
I purchased a cast iron grill grate a few years ago and use it regularly. What's so great about these cast iron grill grates is that they get so hot that they actually add the sear marks to whatever you are cooking.
So, instead of having to turn the meat at an angle to attain the hash marks that look so good on meat, these grates already have the hash marks built-in!
Also, they are so durable due to the fact that they are made out of cast iron. And the fact that they heat up fast you can cook a steak quickly yielding a cooked outside and a nice pink interior!
13. Grilling Gloves
If you are at all concerned with safety when charcoal grilling (and you should be), you need to invest in a set of quality grilling gloves. I invested in the exact Weber grilling gloves seen in the image more than five years ago. They are a little bit frayed but they still don't have any holes in them.
The silicone on the palm of the bbq gloves is what makes them heat resistant up to 482 °F and they also allow you to easily grip a hot pot or pan. I always wear my Weber bbq gloves when I am tossing the hot coals into the grill from the chimney starter. You can buy other versions of bbq grill gloves which are made entirely of silicone.
Whatever you do, you must invest in some quality grilling gloves!
14. Grill Cover
Another must-have for a charcoal griller is to invest in a quality grill cover. If you have more than one charcoal grill, like I do, you should buy a cover for each grill. Obviously, I am assuming that you are storing your grill outside in the elements.
The one shown here is a Weber grill cover that I own for my 22″ Weber Kettle Grill. It doesn't matter what type of charcoal grill that you own, you should be able to easily find a quality grill cover for your grill.
If you want your grills to last you need to have a grill cover that will protect your grill from the rain and the snow. I've been through a few of them over the years but I always cover my charcoal grills after they have cooled down after a grilling session.
15. Charcoal Storage Dispenser
I own two of these charcoal storage dispensers because I believe it's important to store your charcoal in an airtight, climate-resistant container. The Kingsford Kaddy, shown here, works like a charm.
The top of the unit has a flap which pops up (shown in the image) allowing you to access the charcoal. To be honest, I typically pop off the whole top and grab the bag of charcoal and pour it into my chimney starter. It's just easier for me.
The one shown here will hold up to a 22 lb bag of charcoal but I typically buy the 18 lb bags of Kinsgsford charcoal or lump charcoal. Obviously, if you prefer lump charcoal this charcoal dispenser can also be used as long as the bag of lump charcoal isn't greater than 22 lbs. Royal Oak Lump Charcoal is a readily-available brand of lump charcoal you can pick up at any big box store.
16. Charcoal Ash Disposal – Ash Bucket
This might not be something that you would think about when it comes to charcoal grilling but I think it's important to have a fireproof container or ash bucket for charcoal ash disposal. Even with a fireproof ashes container like the one shown here, it's important, after grilling, to let the charcoal cool before moving it into a container.
If you are pressed for time and need to move hot charcoal into an ash container like this one you should thoroughly spray down the hot charcoal with water after moving them into the ashes container. You want to fully extinguish any hot charcoal. If you don't the container, even when covered, could act as a grill and the charcoal will continue to stay hot and cook while in the container.
Just use common sense when handling any hot ashes related to your charcoal grilling sessions. Investing in a quality ash bucket is a great way to start.
17. Charcoal Grill Mat
A fire-resistant charcoal grill mat is a must-have charcoal grill accessory especially if you are using a charcoal grill on a wooden deck. The grill mat shown here is a Resilia large under grill mat and is the exact model that I use when using my charcoal grills or my offset smoker.
When I use either my 18 1/2″ Weber kettle grill or my 22″ Weber charcoal grill, I use only one of these mats. When I use my Brinkmann offset smoker, I simply place two of them side-by-side and it provides full coverage under my smoker. This mat is the perfect size for my needs.
This is just another charcoal grill accessory in which you should invest to help keep you and your wooden deck safe from a potential fire hazard.
Charcoal Grill Accessories – A Recap
I hope you find this list a comprehensive one when it comes to your charcoal grilling accessories. Being an avid charcoal griller is a very gratifying experience and it's become one of my favorite hobbies. Grilling with charcoal has become a passionate pastime of many of us and there are always new and improved products and techniques we can utilize to expand our grilling capabilities.
If you invest in these quality items, your life with grilling and barbecue might just be as enjoyable as mine. If you have any questions on any of these products, please leave them in the comments or use our Contact Us page.
Bob started this passion site, Life with Grilling, in 2012. Life with Grilling has been a trusted source for grilling and barbecue tips, techniques, and accessories for over 10 years. Bob has been charcoal grilling for most of his adult life and smoking meats using a personally-configured stick-burner Brinkmann smoker since 2012.
His passion for charcoal grilling was instilled into him by his father who used charcoal on a basic grill to cook for his family on warm summer nights. Charcoal grilling and tending to his smoker has been a happy pastime of Bob's, especially as he enters his retirement years. His love of all things grilling and smoking has allowed him to review the best charcoal grills and grilling accessories available in the martketplace and to develop many recipes, grilling tips, and techniques over the years. He is eager to share his lifelong grilling experiences and expertise through Life with Grilling!