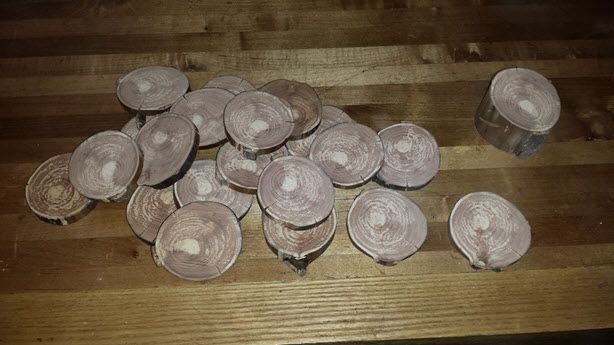 Do you know how to make your own smoking chips or how to make wood chips for smoking? Well, when it comes to anything in life I try to save money. I also love to do DIY projects specifically when it pertains to anything related to wood or charcoal grilling for that matter.
So, when I recently saw that my local apple orchard had bins of apple wood for sale, I decided to pick up a bin of this fruit wood so that I could use it while grilling on my Weber grills and while using my new offset smoker, the Brinkmann Trailmaster Limited Edition.
BTW, the Brinkmann Trailmaster Limited Edition has been discontinued but the Oklahoma Joe's Longhorn Reverse Flow Smoker is a comparable one. If you ever wondered how to make your own smoking chips, this article will give you the steps and, to be honest, it's pretty straightforward and there's no real mystery to it.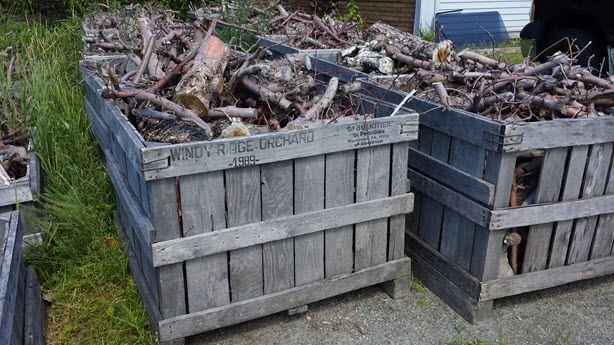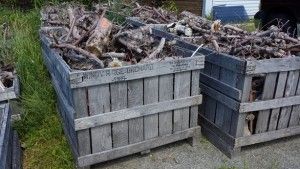 We live in the White Mountains area of New Hampshire and what's so great about this area is that wood is important in many different ways.
Whole logs are used for the multitude of log cabins in the area, wood is one of the primary sources of heat for homes, and there are many BBQ enthusiasts in the area who use local woods for smoking meats.
The image to the left shows you one of the bins that I picked up at my local orchard. The apple vineyard owners typically prune their orchards each year and sell what they prune to BBQ enthusiasts.
After piling them up in back of my Honda CRV (I have pickup truck envy), I headed home to my house in the woods. (Update: 6/17/2021, I now have a 2016 GMC Sierra!) When I got home I stacked the apple wood pieces next to my 4 cord wood pile in a separate area containing wood I'll only use for grilling and barbecue, and not for my fireplace.
I grabbed a couple of branches that were very dry and decided to make my own smoke wood chips from this wonderful apple wood.
We always buy our wood chips at a local big box store but I figured for the small amount I paid for the apple wood at the orchard, I could easily make my own smoke wood chips and help others learn how to make your own smoking chips and save money at the same time! The following images show how I did it and also shows me using them in my Weber grill when I indirect grill my barbecue chicken.
How to Make your Own Smoking Chips or Smoker Chips
How to Make Apple Wood Chips for Smoking
Apple Wood Chunks Length-wise and Cross-section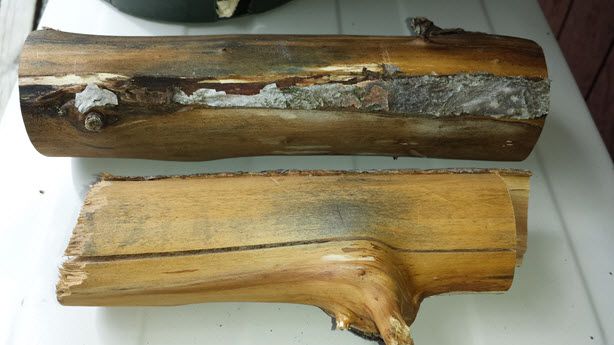 Utilizing a Chop Saw and a Bandsaw to Cut the Apple Wood Chunks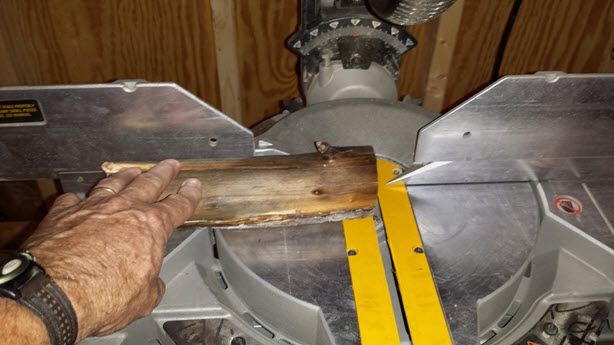 The Final Result after Cutting the Apple Wood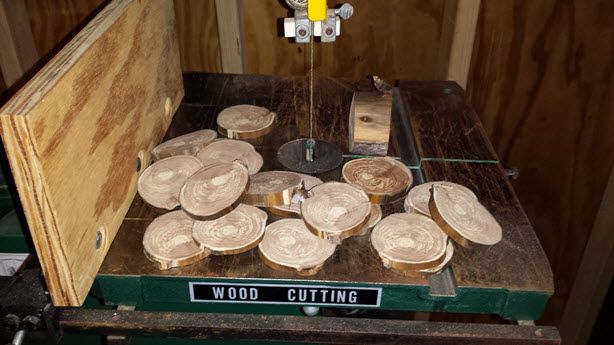 Adding Apple Wood for Smoking to my Weber Grill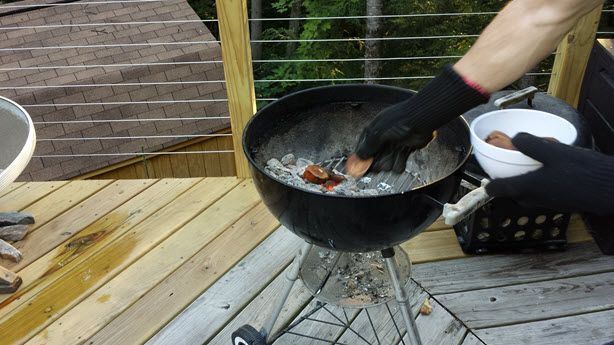 Using my Weber Grill and Wood Chips for Offset Grilling a Whole Chicken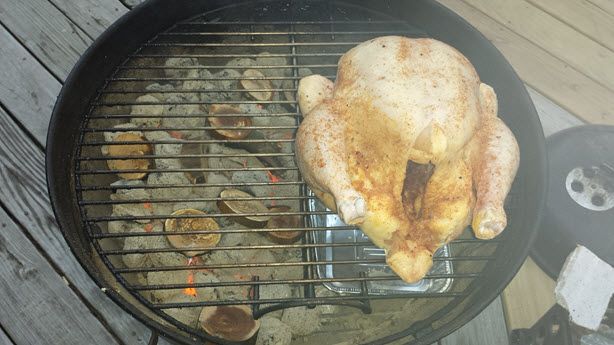 The smoke flavor that my DIY apple smoke wood chips added to our barbecue chicken was phenomenal. I hope you use this article to help you learn how to make your own smoking chips because it's fun and it saves you some money!
Summary of How to Make Wood Chips for Smoking
Making wood chips for smoking is a DIY project that anyone can take on if you enjoy adding some smoke flavor to your charcoal grilling. As you can see from the above images, there is more than one way in which you can make your own wood chips. I hope this article gives you some ideas on how you can tackle this exercise on your own.
Not only can you use power tools but you can also do so with hand tools such as a hand saw if you don't want to head out to the store to buy them. This is a gratifying experience for me and I hope it is also for you!