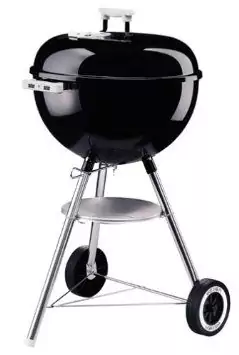 There isn't a better medium-size charcoal grill than the Weber One Touch Silver Kettle Grill. If you have never used a Weber grill, you are missing out on a great grilling experience. This Weber charcoal grill is my go-to grill for everyday grilling. I love the large 18.5″ grilling surface because it allows me to cook enough meat or seafood for guests. In my opinion this is the best charcoal grill in its class.
It is also at a perfect height and I particularly love the fact that it is on wheels which makes it very easy for me to move it around my deck. I was using a Weber Smokey Joe grill for the longest time and decided to jump it up another level and I haven't looked back yet. I looked at the various model sizes and decided on the Weber One Touch Silver Kettle Grill. Here's a quick pictorial tutorial on how to barbecue a whole chicken on my Weber One Touch Silver.
Click Here to See the Great Price on the Weber One Touch Silver
The Weber Smokey Joe was a little small when I had to grill for guests but I will never be without one due to the portability of that grill. My new Weber One-Touch Silver is seeing a lot of action these days. There is something unique about the Weber charcoal grill dimensions that cooks food perfectly. The Weber kettle grill design is unmatched in the marketplace.
Believe me, I have tried the phony knockoffs and they simply don't work like a Weber grill. The Weber kettle charcoal grill has always been the best charcoal grill in its class. Another positive aspect of my One Touch Silver is that the grilling surface is large enough for my Weber rib rack which is quickly becoming one of my favorite grilling accessories. If you ever have to replace your Weber One Touch Cleaning System, there is a simple method I went through recently. As long as you keep it covered you should be OK!
Weber One Touch Silver Kettle Grill Features
The Weber One Touch Silver kettle grill is 18.5 inches in diameter
Very easy assembly. You'll be grilling within minutes!
Wheels make it very convenient to move around even when hot.
One-touch cleaning will allow you to empty ashes cleanly and easily
The lid and bowl are made of porcelain enamel, heavy-gauge steel
Rust-resistant aluminum legs
Ash catcher to collect hot ashes
Vents on cover and bottom bowl for efficient airflow. Shutting them at the end of a cook allows you to reuse charcoal briquettes on next cook.
Upgrade your Grilling with the Weber One Touch Silver Kettle Grill

If you think you have grilled at a high level without a Weber grill, pick up a Weber One Touch and you'll be thoroughly impressed with it. The large grilling surface, mobility, and Weber quality will make it a worthwhile investment. Once you turn to Weber when it comes to charcoal grilling you will never go back to the imposters!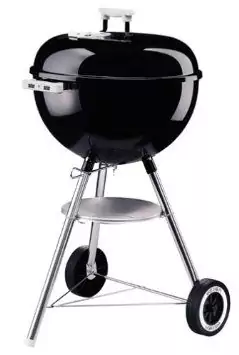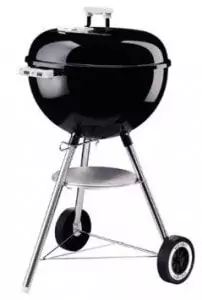 Bob started this passion site, Life with Grilling, in 2012. Life with Grilling has been a trusted source for grilling and barbecue tips, techniques, and accessories for over 10 years. Bob has been charcoal grilling for most of his adult life and smoking meats using a personally-configured stick-burner Brinkmann smoker since 2012.
His passion for charcoal grilling was instilled into him by his father who used charcoal on a basic grill to cook for his family on warm summer nights. Charcoal grilling and tending to his smoker has been a happy pastime of Bob's, especially as he enters his retirement years. His love of all things grilling and smoking has allowed him to review the best charcoal grills and grilling accessories available in the martketplace and to develop many recipes, grilling tips, and techniques over the years. He is eager to share his lifelong grilling experiences and expertise through Life with Grilling!