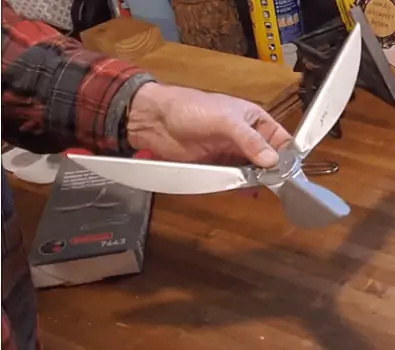 If you need to learn how to replace a Weber One Touch Cleaning System on your own Weber kettle grill, this article and included YouTube video below will show you how.
I love my Weber Grills but I must confess that I have neglected one of them for a while now. You see, the One Touch cleaning system within my 18″ Weber Kettle Grill seized up on me about 2 years ago and I haven't used it since.
I think I know how it happened.
I failed to use a drip pan religiously and, over time, the marinade or mop sauce that I had been using on my grilled meats just hardened up at the bottom of my kettle grill. This ended up seizing up the blades that are used to clean out the grill after each use.
So, my 18″ Weber Grill has been sitting in the corner of my deck (even though it's covered) for about 2 years and I really haven't used it.
I could've used it but I always shut the vents on the bottom and top of my Weber grill after each use and the blades on the bottom were frozen shut so the vents were fully exposed.
I shut all of the vents after each use to prevent any glowing ashes from leaving the grill potentially causing a fire on my deck. Another reason I shut the vents is so that I can relight used charcoal for my next cook. I do use a grill mat but if a big wind happened to blow it could potentially blow glowing ashes onto my wooden deck since I couldn't close the vents.
Steps on How to Replace the Weber One Touch Cleaning System
Purchase the Weber One Touch Cleaning System Replacement Parts for your model of Weber Grill.
If your existing Weber One Touch Cleaning System is frozen utilize a cutting tool like an angle grinder to remove nut.
Unbox the Weber One Touch Cleaning System and place the parts on a workbench or table.
Assemble the blades properly based on their number on each blade.
Place the blades in the Weber Kettle Grill covering up the holes with the blades.
Flip your Weber Kettle Grill over holding the blades in place.
Insert the metal rod into the side that is notched until it clicks into place.
Assembly is complete! Test to ensure it works properly.
The steps are fairly straightforward. I had the issue that I couldn't remove the nut which kept the system together so I had to utilize a cutting tool like an angle grinder to remove it. The new replacement system did not have a nut so obviously there was a change in the design since I bought my Weber One Touch Silver Kettle Grill.
Video on How to Replace the Weber One Touch Cleaning Kit
The youTube ideo below will give you detailed steps in replacing the Weber One Touch Cleaning System on my 18″ Weber Kettle Grill.
Here are some images of the box with the new parts and the contents.
Weber One Touch Parts Box and Contents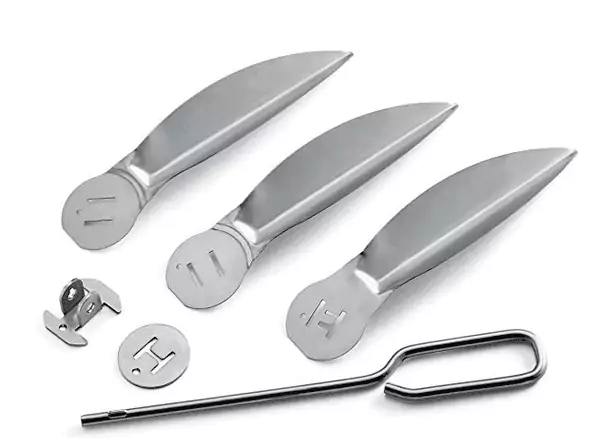 If you tend to be a conservative guy or girl, you don't tend to go out and buy a new item if the old one isn't working properly. When my Weber One Touch Kettle Grill cleaning system seized up on me I just switched over to my Weber 22 Inch Kettle Grill. I finally broke down and bought the replacement parts and successfully replace the cleaning system. It felt great to finally get my kettle grill working properly.
If you have a similar issue, I hope this article helps you to properly install your new cleaning system for your Weber kettle grill. If you have any questions at all please leave them in the comments or shoot me an email at bob@lifewithgrilling.com!
Bob started this passion site, Life with Grilling, in 2012. Life with Grilling has been a trusted source for grilling and barbecue tips, techniques, and accessories for over 10 years. Bob has been charcoal grilling for most of his adult life and smoking meats using a personally-configured stick-burner Brinkmann smoker since 2012.
His passion for charcoal grilling was instilled into him by his father who used charcoal on a basic grill to cook for his family on warm summer nights. Charcoal grilling and tending to his smoker has been a happy pastime of Bob's, especially as he enters his retirement years. His love of all things grilling and smoking has allowed him to review the best charcoal grills and grilling accessories available in the martketplace and to develop many recipes, grilling tips, and techniques over the years. He is eager to share his lifelong grilling experiences and expertise through Life with Grilling!