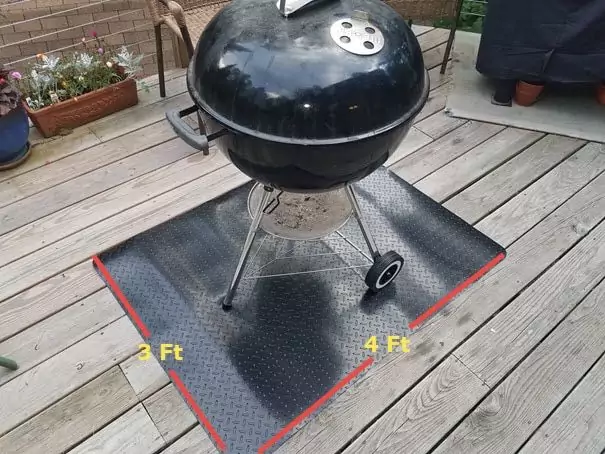 For those of you who use a charcoal grill on a deck made of wood or on any surface that is potentially flammable, It's important to take precautions. One of those absolute MUST precautions is to purchase a charcoal grill mat. This article will show in detail the one that I use when I am charcoal grilling and when I am using my Brinkmann offset smoker.
A Charcoal Grill Mat is a Grill-Safe Accessory
A grill mat for your deck is an important and necessary addition to your grilling arsenal especially if you use your charcoal grill on a wooden deck, I have a number of Weber grills and a Brinkmann Trailmaster Offset Smoker that I use on my wooden deck. Charcoal grilling accessories are abundant out there but safety should be a top consideration.
A while back I wrote the article Can I use my Charcoal Grill on a Wooden Deck? since it emanated from a question from one of my readers. Well, since then, it has clearly become one of the most popular articles on this website. It tells me that people are very concerned about the prospect of using a charcoal grill on a wooden deck.
Well, within that article, I detail a number of safety tips that you should take while using a charcoal grill on a wooden deck. One tip in that article is to conserve and relight used charcoal briquettes to save money. Another tip is to make use of a grill mat which I certainly have done with my Resilia Protective Grill Mat for Deck. You can check out a YouTube video I have created for it below to give you a first-hand look at this important grilling accessory.
YouTube Video of my Charcoal Grill Mat for Deck
I purchased a Resilia Protective Grill Mat for my deck and use it every time I grill with charcoal or smoke meats with my smoker. I just use two of them when I use my smoker (scroll down further to see my smoker and the two charcoal grill mats below it). Anyway, please check out my unboxing below so you can visualize how it will also work for your needs.
(Click on any image for a larger view)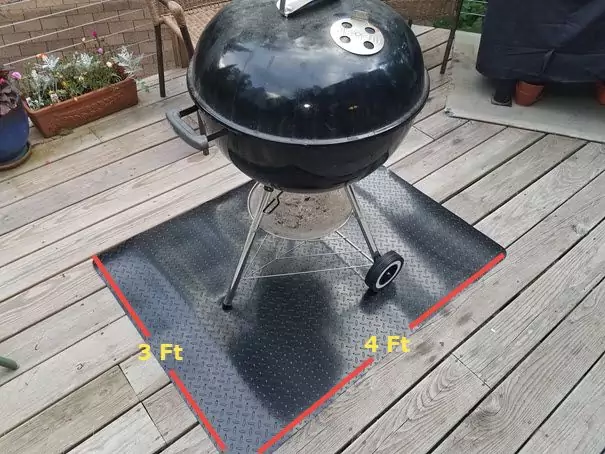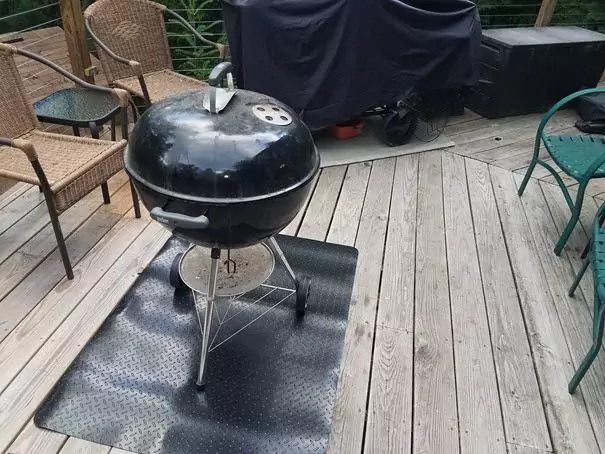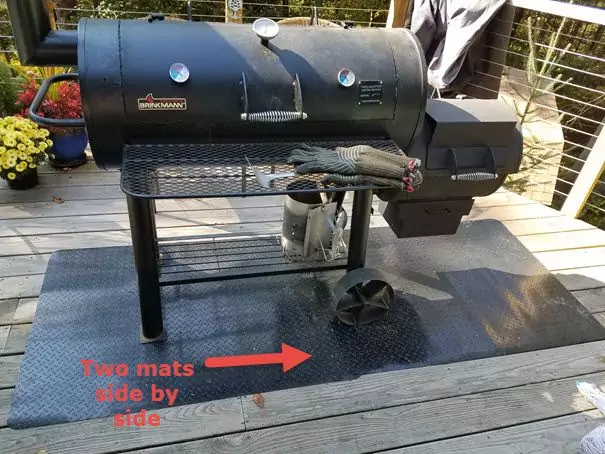 Mat Dimensions – 4 Ft X 3 Ft
Item Weight – 7 pounds
Color – Black
Material – Rubber
Flame and oil resistant
Diamond Plate Finish
Easy to Clean
Rolls up for easy storage

If you also grill on a wooden deck or you just want to protect the area beneath your charcoal grill, this mat for under grill is the one I bought for my Weber charcoal grill. It's easy to set up if you don't want it to be a permanent fixture under your grill. But it looks so good you just might want to keep it on your deck at all times.
Don't Grill without a Charcoal Grill Deck Mat
Here are some more charcoal grill mats to check out
(Click on any of the grill mat's name for more details)
Charcoal Grill Mat Recap
Safety is extremely important when your chimney starter is lit and the flame is making its way up the chimney. It is also very important to be diligent after you pour the hot charcoal and when you are charcoal grilling on your deck or on any flammable surface. A charcoal grill deck mat will help to ensure you stay safe during the grilling process.
Purchasing a grill mat for under grill is a proactive and safety-conscious move to ensure that you and your family is safe from a potential fire. For a small cost it could be a big way to ensure your grilling day goes smoothly and safely! If you have any questions or comments please leave them below or ask me directly via my Contact Me page!
Bob started this passion site, Life with Grilling, in 2012. Life with Grilling has been a trusted source for grilling and barbecue tips, techniques, and accessories for over 10 years. Bob has been charcoal grilling for most of his adult life and smoking meats using a personally-configured stick-burner Brinkmann smoker since 2012.
His passion for charcoal grilling was instilled into him by his father who used charcoal on a basic grill to cook for his family on warm summer nights. Charcoal grilling and tending to his smoker has been a happy pastime of Bob's, especially as he enters his retirement years. His love of all things grilling and smoking has allowed him to review the best charcoal grills and grilling accessories available in the martketplace and to develop many recipes, grilling tips, and techniques over the years. He is eager to share his lifelong grilling experiences and expertise through Life with Grilling!