A charcoal grill mat is an important and necessary addition to your grilling arsenal especially if you use your charcoal grill on a wooden deck. I have a number of Weber grills and a Brinkmann Trailmaster Offset Smoker that I use on my wooden deck.
A while back I wrote the article Can I use my Charcoal Grill on a Wooden Deck? since it emanated from a question from one of my readers. Well, since then, it has clearly become one of the most popular articles on this website. It tells me that people are very concerned about the prospect of using a charcoal grill on a wooden deck.
Well, within that article, I detail a number of safety tips that you should take while using a charcoal grill on a wooden deck. One of those tips is to make use of a charcoal grill mat which I certainly have done with my Grill & Garage Protective Mat. You can check out a youTube video I have created for it below to give you a first-hand look at this important grilling accessory.
(Click on any image for a larger view)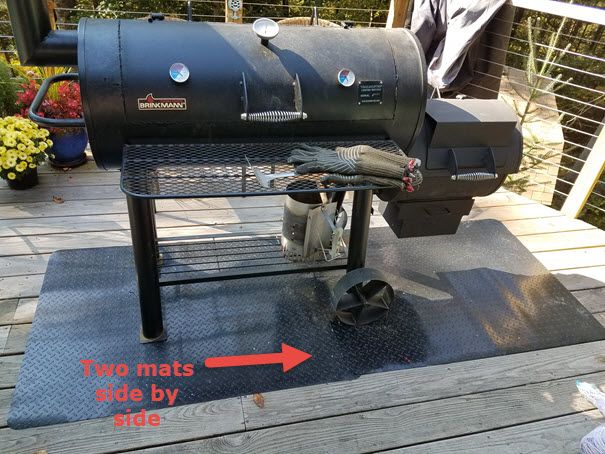 Mat Dimensions – 4 Ft X 3 Ft
Item Weight – 7 pounds
Color – Black
Material – Rubber
Flame and oil resistant
Diamond Plate Finish
Easy to Clean
Rolls up for easy storage
If you also grill on a wooden deck or you just want to protect the area beneath your charcoal grill, this charcoal grill mat is the one I bought for my Weber charcoal grill. It's easy to set up if you don't want it to be a permanent fixture under your grill. But it looks so good you just might want to keep it on your deck at all times.
Here are some more grill mats to check out
(Click on any of the grill mat's name for more details)
If you have any questions or comments please leave them below or ask me directly via my Contact Me page!