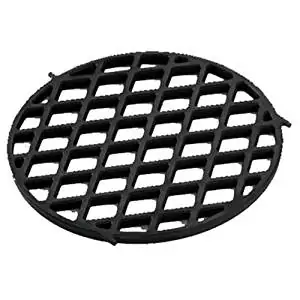 Do you want to create those professional-looking grill marks on your meat or fish without any hassle? The Weber Gourmet Sear Grate will allow you to do just that with your charcoal grill.
I've been using Weber grills for years but one of my pet peeves has been that I simply can't get my kettle grills hot enough to get a nice sear on my steaks, pork chops, or seafood. Until now…
I just used my new Weber Gourmet Sear Grate the other night for the first time and I am psyched about the results! What is even cooler about this sear grate is that you don't even have to do the traditional step of turning your steaks slightly to get the cross-hatch marks.
This sear grate has the cross-hatch built in!
I've used, and still use today, Weber Grills in all sizes including my Weber Smokey Joe, my Weber 18-Inch One Touch Silver, and my latest Weber Grill purchase which is the Weber 22-inch Kettle Grill. I basically use the grill that makes sense for the situation. I always use my charcoal grill mat under my grills for safety sake.
If I'm heading over to my in-laws' house I'll just pack up my Weber Smokey Joe in my Weber Smokey Joe Bag and set it up over there to cook up hamburgers, steaks, pork chops, or any other meat or seafood. My Weber 18 inch One Touch Silver is perfect for just my wife and I or a small group of relatives or friends.
My Weber 22-Inch Grill is the ultimate when it comes to being able to add accessories like my Weber Gourmet Sear Grate or any of the many accessories that are made for that grill.
The Weber Gourmet Sear Grate is dynamite and I cannot wait to try it out next time on pork chops. I am very excited that I finally have a charcoal grill that can sear a piece of meat. I use it with my Weber Hinged Cooking Grate because this grate is made specifically for adding the Sear Grate to the center.
Weber Sear Grate Grilling System
Check out my Chops, Burgers, and Rib Eye!
If you don't want to invest in the BBQ System Hinged Grate, you can actually simply place the Weber Gourmet Sear Grate directly onto your existing grate.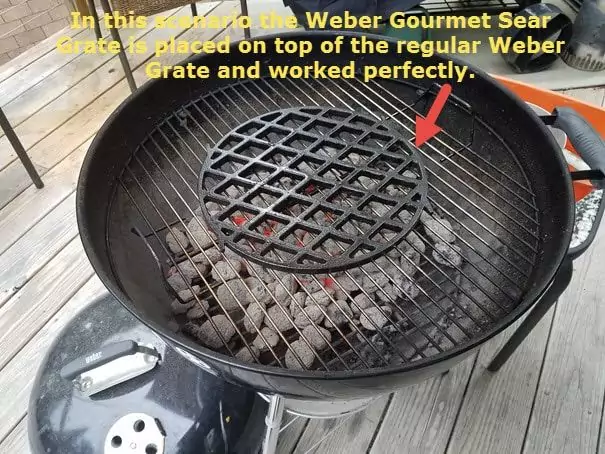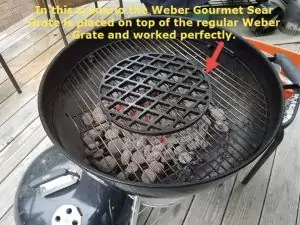 I guess you really don't have to buy the hinged grate with the section in the middle and could probably just place the sear grate on top of your existing grate. I decided to take the plunge and get the Weber Hinged Cooking Grate seen above because now I can pick up many of the other accessories that go with this grate in the future.
Grate Dimensions – 12 inches in diameter
Item Weight – 6.6 pounds
Color – Black
Material – Porcelain-enamelled cast iron
Manufacturer – Weber
Sears meat and seafood with a professional look
Works with the Weber BBQ Hinged Grate or can place on generic grate
Great addition to your grilling arsenal!

If you're tired of not being able to sear your meat or seafood with a professional look? Well, this is the solution to your grilling and searing needs. Read the reviews if you don't believe me. It's definitely another high quality Weber product that will last a lifetime.
Any questions or comments please leave them below or contact me using my Contact Me page.
Bob started this passion site, Life with Grilling, in 2012. Life with Grilling has been a trusted source for grilling and barbecue tips, techniques, and accessories for over 10 years. Bob has been charcoal grilling for most of his adult life and smoking meats using a personally-configured stick-burner Brinkmann smoker since 2012.
His passion for charcoal grilling was instilled into him by his father who used charcoal on a basic grill to cook for his family on warm summer nights. Charcoal grilling and tending to his smoker has been a happy pastime of Bob's, especially as he enters his retirement years. His love of all things grilling and smoking has allowed him to review the best charcoal grills and grilling accessories available in the martketplace and to develop many recipes, grilling tips, and techniques over the years. He is eager to share his lifelong grilling experiences and expertise through Life with Grilling!