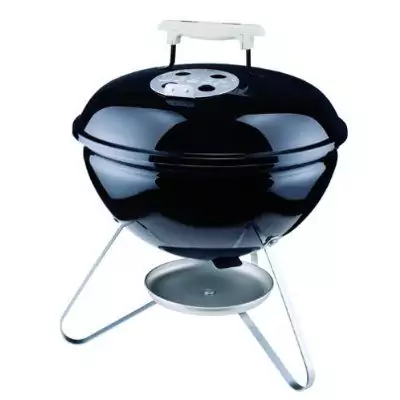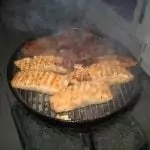 For as long as I can remember I've owned a Weber Smokey Joe grill. I bought my first one about 20 years ago and just last year I had to replace it. The connection where the legs attached to the bottom kettle bowl simply rusted out over time.
I tried to extend its life as long as I could but I bit the bullet and bought a new Weber Smokey Joe Silver just a few months ago. Believe it or not, the top and bottom kettle bowls of the old one were still in excellent shape but it was time to invest in the latest and greatest Smokey Joe.
For my barbecue and grilling fun I now own both a new Weber One Touch Silver kettle grill and a new Weber Smokey Joe Silver charcoal grill. So why do I own two different brands of Weber? Oftentimes I just grill for family and the Smokey Joe is the perfect size for the four of us. It is even big enough for a couple more guests should we have them over. The Smokey Joe Weber grill allows me to be a little more conservative with the amount of charcoal that I use and it is just the right size when there isn't a big crowd.
Click Here to See the Great Price on the Weber Smokey Joe Charcoal Grill
When it comes to a party or having many guests over, I opt for the Weber One Touch Silver. Sometimes I actually fire up both of them at the same time depending on the crowd. As you can tell, I simply love the Weber charcoal grills. Their design is unprecedented and they cook so much more evenly than the copycat kettle-type grills that are out there. Another great advantage of a Smokey Joe is that it is portable when you need it to be. I have brought my Smokey Joe camping and to the beach on occasion. We oftentimes rent an oceanfront cabin and the Smokey Joe allows me to grill our favorite meats and seafood with a panoramic view of the Atlantic Ocean.
Weber Smokey Joe Silver Charcoal Grill Features
Easy to assemble. Within 10 minutes you can have it fully assembled and ready for grilling!
Portability is one of the greatest features for tailgating, cooking at the beach, and camping.
14.5" nickel-plated cooking grate is plenty big for your everyday grilling needs.
The top and bottom bowls are porcelain-enamel limiting rust over the long haul.
Nylon glass-reinforced handle is long-lasting and allows you to safely remove lid when hot.
At 9.5 pounds it is easily moved from one location to another.
Will last for years. I owned one for 20 years and the bowls never rusted out.
Rust-resistant aluminum legs will last forever.
Ash catcher for hot ashes is a convenient safety feature.
Buy a long-lasting Weber Smokey Joe for your everyday grilling needs!
Weber is one of the best names in grilling. Their products are of the highest quality and, as a result, last for years. If you invest in an economical Weber Smokey Joe grill, you'll experience what it's like to grill with the best charcoal grill in the business – Weber.
And if you love the Weber Smokey Joe Grill you might also want to invest in a Weber Smokey Joe Bag Grill Carrier. I recently bought one and I love it. This Weber Smokey Joe bag allows me to transport my Smokey Joe easily if I want to tailgate or simply head out to the beach for the day.
This specialized carrier is specifically made for the Smokey Joe and it comes with the Weber name and quality. It also comes with a handy carrying pouch for your grill accessories. If you are crazy about charcoal grilling you should have both the Weber Smokey Joe grill and the Smokey Joe Bag. You will not be disappointed!
Bob started this passion site, Life with Grilling, in 2012. Life with Grilling has been a trusted source for grilling and barbecue tips, techniques, and accessories for over 10 years. Bob has been charcoal grilling for most of his adult life and smoking meats using a personally-configured stick-burner Brinkmann smoker since 2012.
His passion for charcoal grilling was instilled into him by his father who used charcoal on a basic grill to cook for his family on warm summer nights. Charcoal grilling and tending to his smoker has been a happy pastime of Bob's, especially as he enters his retirement years. His love of all things grilling and smoking has allowed him to review the best charcoal grills and grilling accessories available in the martketplace and to develop many recipes, grilling tips, and techniques over the years. He is eager to share his lifelong grilling experiences and expertise through Life with Grilling!