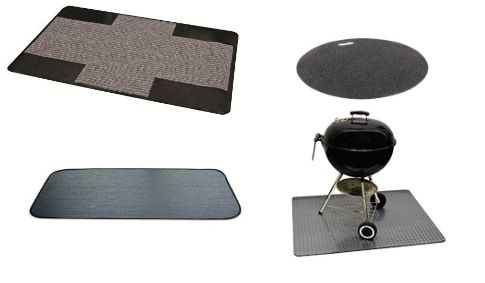 Charcoal grilling on a wood deck is something that we have been doing for decades without any concern whatsoever. But, we should be concerned for a number of reasons. Your charcoal grill is full of lit charcoal and your wood deck is, well, made of wood! So, there is every reason to be vigilant about charcoal grilling on a flammable surface.
So, what can be done to ensure that a fire doesn't start as a result of your charcoal grilling? Let's look at some suggestions.
1. Be Extremely Aware of your Lit Chimney Starter
If you have been charcoal grilling for a while, you must have made an investment in a charcoal chimney starter. Gone are the days of using smelly, highly flammable, lighter fluid to light up your charcoal. I happen to use a Weber Rapidfire Chimney Starter. In fact, I own a couple of them. When the chimney starter is lit you must ensure it is seated properly within your charcoal grill.
In fact, I typically remove my top grate and ensure the chimney starter is on the bottom grate. When the chimney starter is lit and the flames are shooting out the top, this is the time you should be very vigilant when it comes to fire safety.
With the popularity of not only charcoal grills but also propane grills as well as smokers, an investment in a quality charcoal grill mat is a must! In fact, since I have a longer barbeque smoker in comparison to a smaller charcoal grill, I actually purchased 2 grill mats and place them side by side when I am using my smoker. You can see them below under my smoker.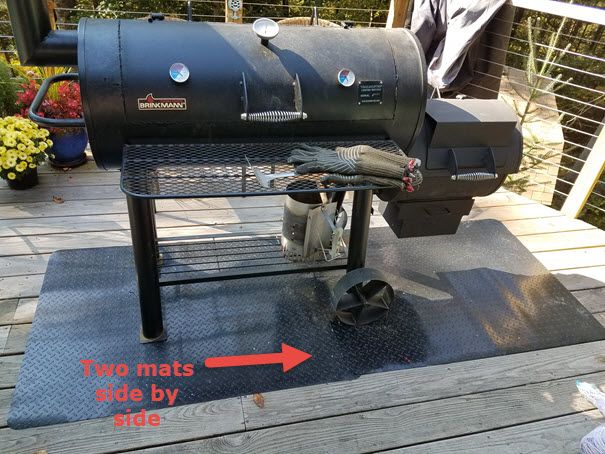 I typically use only one of them when I am just using one of my Weber grills, either the 18″ or the 22″. A charcoal grill mat will give you a sense of calm when it comes to grilling or smoking.
3. Close the Vents when your are Done Grilling
With my Weber charcoal grills, there are vents on top and vents on the bottom, underneath the bottom grate. In order to ensure safety after I am done grilling I shut down both the top and the bottom vents. It not only ends up being safer but it also allows me to save charcoal. I always grill with used charcoal briquettes to save money.
Out of all of the suggestions above the most important is to use the charcoal grill mat. For short money, it will be quite a load off of your mind when it comes to fire safety.