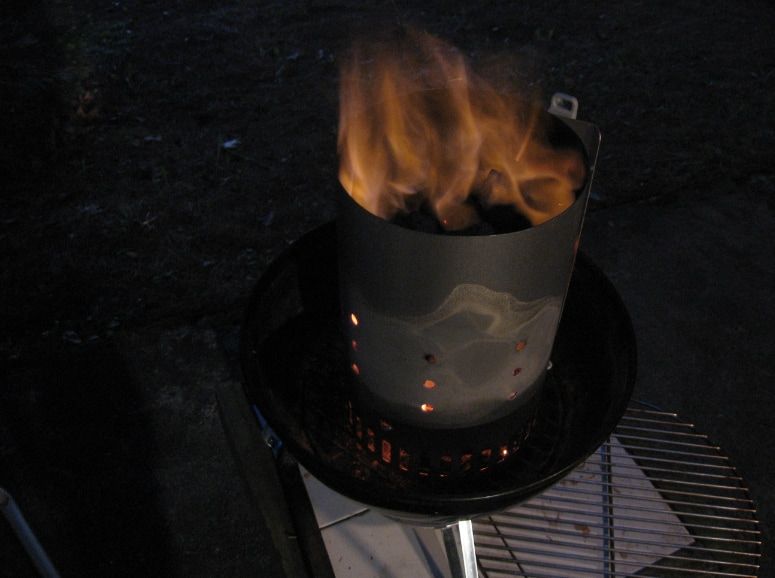 Do you remember the days when lighting charcoal you would douse it with lighter fluid and create a small explosion when you dropped the match onto the pile? It's no wonder that your food had the taste and smell of lighter fluid. Yuk! Believe it or not, they still sell lighter fluid even today. But there is a much better way to light your charcoal.
It may not be as fast as lighter fluid but it is safer, cheaper, and your food will taste great without the chemical odor or taste. It is called a charcoal chimney starter.
A Weber Rapidfire Chimney Starter is a Safe Option
If you want to light your charcoal with safety in mind, the Weber Rapidfire Chimney Starter is your best option. It is made with quality and will keep your food tasting as it should taste and not with a chemical taste from lighter fluid.
I was turned onto the charcoal starter about a year ago and I was a bit skeptical as to whether they would work properly or not. But, after using one for the past year, I have never had an occurrence when it didn't work.
The model I use is called Weber 7416 Rapidfire Chimney Starter. You can see how I use it to light the charcoal in my article which is about how to barbecue a whole chicken on a Weber grill.
The Weber Charcoal Starter Always Delivers
If you haven't used a Weber charcoal chimney starter in the past, you might be a little skeptical. You have always used lighter fluid to light your charcoal in the past and that always works. Believe me, the Weber charcoal chimney works every time!
I've used the inferior models but they have rusted out on me and are basically flimsy in comparison to the Weber Chimney Starter. Just within the past few months I decided to invest in the best and started using the Weber Rapidfire Chimney Starter.
Ever since the first time I used it, I knew this was the best charcoal chimney starter on the market, light years ahead of the inferior models I was using.
Click to see the great price on the Weber Charcoal Chimney Starter
Detailed Steps on How to Use a Chimney Starter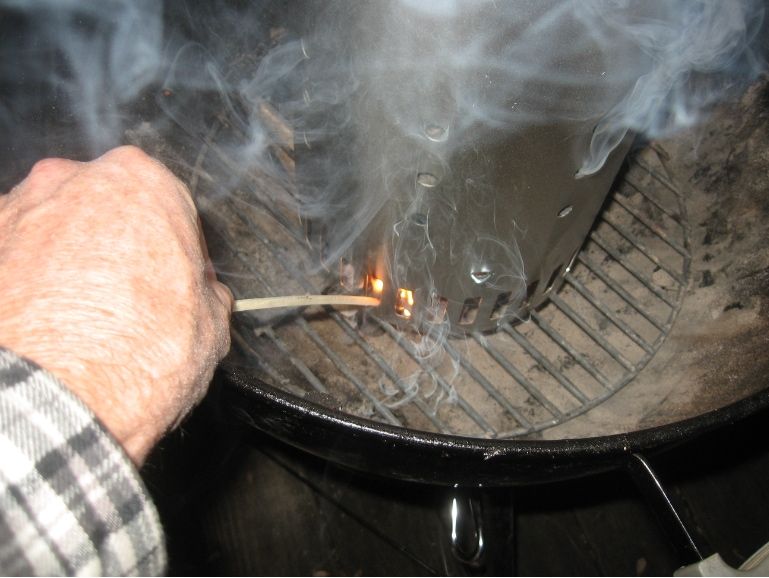 If you are unfamiliar with how to use a chimney starter, it is really quite simple. How to light a charcoal grill with a chimney starter is really quite simple.
Roll up some newspaper and place it in the bottom of the charcoal chimney starter. If you don't have any newspaper lying around you could also use Weber Lighter Cubes – one is sufficient.
Pour the amount of charcoal needed into the chimney charcoal starter and place it on your grill grate.
Using a match or a lighter, you light the rolled up newspaper or Weber lighter cube.
After roughly 20 minutes, flames should be shooting out of the top of the charcoal starter. If you are using reused charcoal, it will take a bit longer to reach the top of the chimney because there isn't as much airflow as brand new charcoal.
Once the charcoal on top has a whitish hue, you should put on your Weber Grill Gloves and grab the handle of the chimney starter and pour the hot charcoal into your charcoal grill.
Move the charcoal around so it is uniform at the bottom of the grill, place the top grate on, and cover your grill so the grill heats up quickly.
Depending on whether you are using a single zone, two zone, or three zone fire, you will place the charcoal accordingly. This primer – Cooking with Charcoal – Some Basic Techniques will describe the various zones you could use.
After a few minutes you are ready to grill!
Weber Rapidfire Chimney Starter Features
Chimney starter is built with rust preventing aluminized steel (great for outdoors).
Equipped with safe thermoplastic handle.
Cone bottom feature yields quick ignition separates it from the rest.
Eliminates the need for lighter fluid.
Dimensions are 7-1/2″ by 7-1/2″ by 12″
Will hold enough charcoal for a 22.5 inch kettle grill.
Get the Best with a Weber Rapidfire Chimney Starter

If you care about buying quality, you should invest in a Weber Rapidfire Chimney Starter. You can start out with the cheaper models but you'll only be replacing them after a couple of months. If you're looking for the solution to how to light a charcoal grill, the Weber chimney charcoal starter is your best bet!
Frequently Asked Questions about Charcoal Chimney Starters
1. How much charcoal can you fit in a Weber Rapidfire Chimney Starter?
The amount of charcoal that you can fit in a Weber Charcoal Chimney Starter will depend on the size of the chimney starter you have. There are different sizes of chimney starters available, ranging from small 7.5-inch models to larger 12-inch models (which is the type highlighted in this article).
The smaller models can hold around 40 to 50 briquettes, while the larger models can hold up to 100 briquettes or more. The Weber Charcoal Chimney Starter shown above is 12″ tall with a 7.5″ diameter which is the standard version.
2. How long does it take to light charcoal with a Weber Rapidfire Chimney Starter?
Assuming you are using the standard version which is 12″ high and 7.5″ in diameter and are filling it nearly to the top with brand new charcoal, it should take roughly 20 minutes for the fire to start shooting out the top ready for pouring.
If you are using entirely reused charcoal or a portion being used charcoal, it will take longer for the fire to shoot out the top of the charcoal chimney starter. This is due to the fact that used charcoal will inhibit airflow somewhat which will make the combustion process a little slower than using all new charcoal.
3. Can you use a Weber Rapidfire Chimney Starter with other types of grills?
Yes, you can use a Weber Rapidfire Chimney Starter with other types of grills, as long as the grill has a way to accommodate the chimney starter. The chimney starter is designed to be used with charcoal grills, but it can also be used with some gas grills that have a charcoal tray or basket.
To use the chimney starter with a gas grill, simply place the chimney starter on the charcoal tray or basket and light the charcoal as you normally would.
You can definitely utilize a Weber Charcoal Starter with an offset smoker assuming the firebox can accommodate the size of the chimney starter. Any standard offset stick-burner smoker's firebox will be large enough for a standard Weber chimney starter.
Typically, it makes sense with an offset smoker to start with charcoal to get the smoker up to temp and add wood to keep the temperature at a typical 225°F – 250°F for smoking meats..
Bob started this passion site, Life with Grilling, in 2012. Life with Grilling has been a trusted source for grilling and barbecue tips, techniques, and accessories for over 10 years. Bob has been charcoal grilling for most of his adult life and smoking meats using a personally-configured stick-burner Brinkmann smoker since 2012.
His passion for charcoal grilling was instilled into him by his father who used charcoal on a basic grill to cook for his family on warm summer nights. Charcoal grilling and tending to his smoker has been a happy pastime of Bob's, especially as he enters his retirement years.
His love of all things grilling and smoking has allowed him to review the best charcoal grills and grilling accessories available in the martketplace and to develop many recipes, grilling tips, and techniques over the years. He is eager to share his lifelong grilling experiences and expertise through Life with Grilling!