Congratulations and thank you for joining my Mailing List!
To get your free Grilling Tips entitled:

10 of the Most Underrated Grilling Tips

click on the title above or on the eBook image below!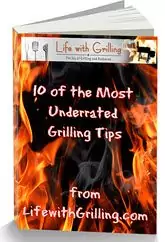 After the pdf opens up just download it to your computer or whatever device you are using.
I will be sending you my latest articles, grilling and barbecue tips, and product reviews to you on a regular basis but it will never be too often to be bothersome.
Please don't ever hesitate to join in on the discussion through the comments or my Contact Me page.


You might want to check out some of my most popular articles below:
How to Barbecue a Whole Chicken on a Weber Grill

Must Have Charcoal Grill Accessories

Sizing up the Weber Smokey Joe and the Weber One Touch Grills

Can I use my Charcoal Grill on a Wooden Deck?

Buy a Small Grill that Cooks Big with the Weber Smokey Joe Grill
Grill well!

Best
Bob