I love charcoal grill accessories and one, in particular, in which I recently invested was my set of charcoal briquette holders. No, I am not referring to some type of watertight container for my charcoal, although I do have one of those in my Kingsford Kaddy.
I am referring to a set of semi-circular, half-moon metal containers that are placed at the bottom of a kettle grill (the one in the images below are of my Weber One Touch Silver grill). They are also known as Weber charcoal holders. They are also a #1 Amazon Best Seller!
I love Weber grill accessories and this one is called the Weber charcoal briquette holder model 7403. You may also call it a charcoal basket but that term typically refers to a single container for charcoal that could be used at the bottom of a smoker.
If you have explored the world of barbecue at all, you have probably heard of indirect grilling or indirect heating. This is when you are using your grill as an oven as opposed to searing your food over high heat. Indirect heating takes longer than grilling over high heat but the results can be spectacular! In lieu of using a water smoker (which I discuss in this article), you are transforming your kettle grill into a barbecue vessel.
Fits 18-1/2-inch kettles or larger (including the One Touch Silver).
Made of durable aluminized steel.
Great accessory for indirect charcoal grilling.
Dimensions: 16 x 10 x 8 inches ; 2.2 pounds
So, do you really need charcoal briquette holders? The honest answer is No but it is much easier to use them and define the area which is associated with indirect heating. You could just as easily deposit your hot charcoal on either side of the bottom of your kettle grill and simply place your drip pan in between the piles. But, if you are really into grilling and barbecue, why not spend the few dollars it takes to buy the briquette holders so that you can always have a consistent amount of charcoal?
In the example shown in the images below, I am cooking ribs with my Weber rib rack (discussed in this article) using the indirect heating method. I have placed both briquette holders on either side of the bottom grate of my kettle grill and in between I have placed my drip pan.
A drip pan is exactly what you think it is. It is a metal dish into which any drippings from your cooking food fall. I used a BBQ sauce mop and bucket so any drippings from the mop sauce can also fall into the drip pan. The combination of the two briquette holders as well as the drip pan delineates where you should place your food on the grill above.
As you can see, the ribs in my Weber rib rack are placed in the optimum location on the center of the grill just above the drip pan keeping some distance from the hot charcoal on either side of the bottom of the grill.
(Click on any image below for a larger view)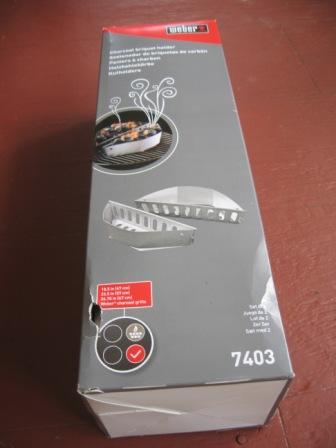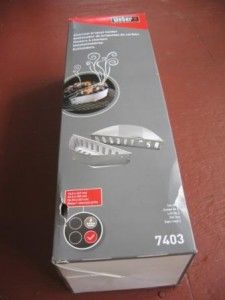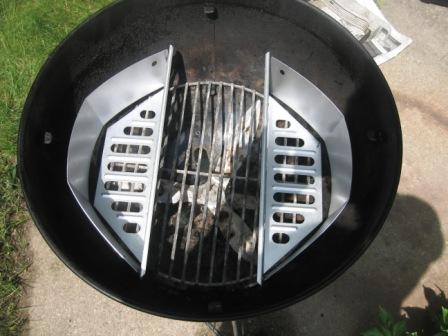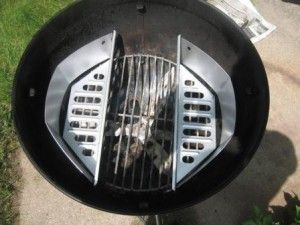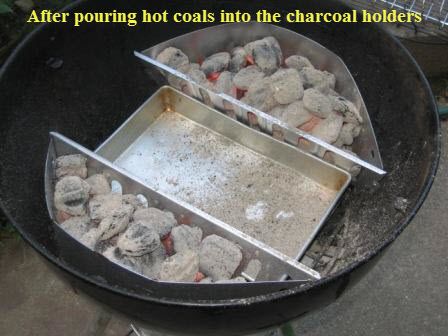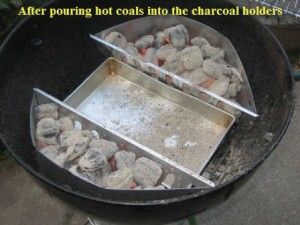 So, do you really need charcoal briquette holders? Not really BUT why not have in your arsenal what the professionals use when they are cooking their own brisket, whole chicken, ribs, or turkey? I did and the price was right. Clearly, you could still do indirect grilling without the briquette holders but it wouldn't be nearly as fun!