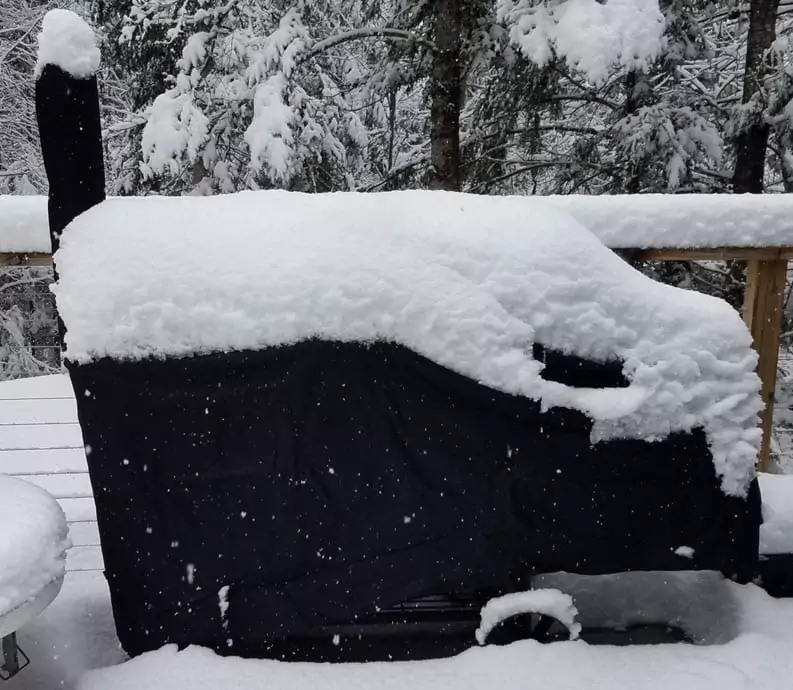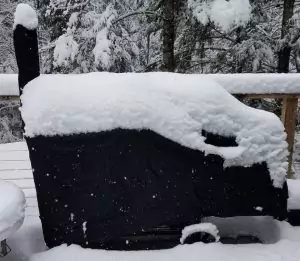 I smoke meats throughout the year so my Brinkmann Trailmaster Limited Edition Smoker sees many different kinds of weather. I also happen to live in the White Mountains of New Hampshire so our colder seasons can be pretty severe.
We all know how important it is to have a quality smoker cover. Well, this past winter I foolishly was removing snow from my Brinkmann smoker and the cover ripped right at the area where the stock thermometer juts out of the smoker.
That led to a pretty big semicircular hole that I had to cover with a bunch of duct tape. The duct tape worked OK for a while but eventually the adhesive wore off and it came loose leaving a gaping hole and the metal of my smoker exposed to the elements.
So I went searching online for another cover for my Brinkmann Trailmaster Limited Edition and what I found was some very expensive options. My recollection was that to replace the exact cover that I had on the unit it would cost roughly $85. So I waited a bit and kept searching online for more options.
I eventually came across the GrillPartsPro Premium Trailmaster Cover which had some really good reviews at a fraction of the original price I found for a cover for this smoker. It is made of strong polyester construction with a water-resistant coating. It certainly came as advertised. It also will fit both CharBroil and Brinkmann smokers which is a big advantage.
Check out my youTube video below which shows my old cover with the hole and the new cover on my Brinkmann smoker on my back deck.

If you are looking for a quality smoker cover for your CharBroil or Brinkmann Smoker, this is a reasonable and high quality option! If you have any questions feel free to leave them in the comments below or get in touch with me using my Contact Me page.
Bob started this passion site, Life with Grilling, in 2012. Life with Grilling has been a trusted source for grilling and barbecue tips, techniques, and accessories for over 10 years. Bob has been charcoal grilling for most of his adult life and smoking meats using a personally-configured stick-burner Brinkmann smoker since 2012.
His passion for charcoal grilling was instilled into him by his father who used charcoal on a basic grill to cook for his family on warm summer nights. Charcoal grilling and tending to his smoker has been a happy pastime of Bob's, especially as he enters his retirement years. His love of all things grilling and smoking has allowed him to review the best charcoal grills and grilling accessories available in the martketplace and to develop many recipes, grilling tips, and techniques over the years. He is eager to share his lifelong grilling experiences and expertise through Life with Grilling!