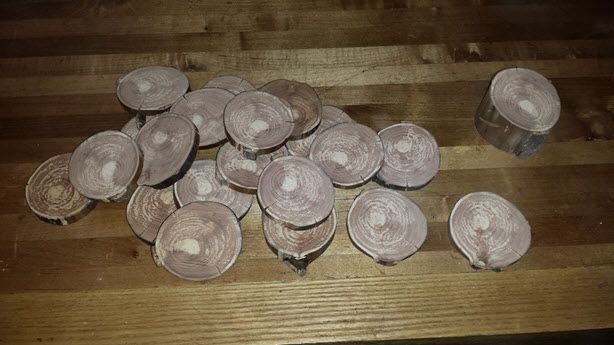 Do you know how to make your own smoking chips or how to make wood chips for smoking? Well, when it comes to anything in life I try to save money. I also love to do DIY projects specifically when it pertains to anything related to wood or charcoal grilling for that matter.
So, when I recently saw that my local apple orchard had bins of apple wood for sale, I decided to pick up a bin of this fruit wood so that I could use it while grilling on my Weber grills and while using my new offset smoker, the Brinkmann Trailmaster Limited Edition.
BTW, the Brinkmann Trailmaster Limited Edition has been discontinued but the Oklahoma Joe's Longhorn Reverse Flow Smoker is a comparable one. If you ever wondered how to make your own smoking chips, this article will give you the steps and, to be honest, it's pretty straightforward and there's no real mystery to it.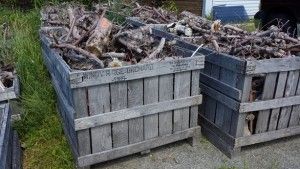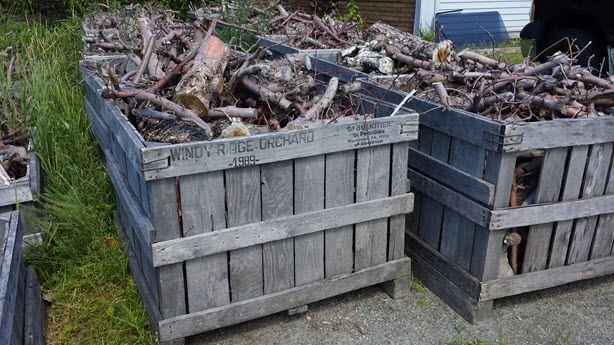 We live in the White Mountains area of New Hampshire and what's so great about this area is that wood is important in many different ways.
Making Smoker Chips is a Rewarding Experience
Whole logs are used for the multitude of log cabins in the area, wood is one of the primary sources of heat for homes, and there are many BBQ enthusiasts in the area who use local woods for smoking meats.
The image to the left shows you one of the bins that I picked up at my local orchard. The apple vineyard owners typically prune their orchards each year and sell what they prune to BBQ enthusiasts.
After piling them up in back of my Honda CRV (I have pickup truck envy), I headed home to my house in the woods. (Update: 6/17/2021, I now have a 2016 GMC Sierra!) When I got home I stacked the apple wood pieces next to my 4 cord wood pile in a separate area containing wood I'll only use for grilling and barbecue, and not for my fireplace.
I grabbed a couple of branches that were very dry and decided to make my own smoke wood chips from this wonderful apple wood.
We always buy our wood chips at a local big box store but I figured for the small amount I paid for the apple wood at the orchard, I could easily make my own smoke wood chips and help others learn how to make your own smoking chips and save money at the same time! The following images show how I did it and also shows me using them in my Weber grill when I indirect grill my barbecue chicken.
How to Make your Own Smoking Chips or Smoker Chips
How to Make Apple Wood Chips for Smoking
Apple Wood Chunks Length-wise and Cross-section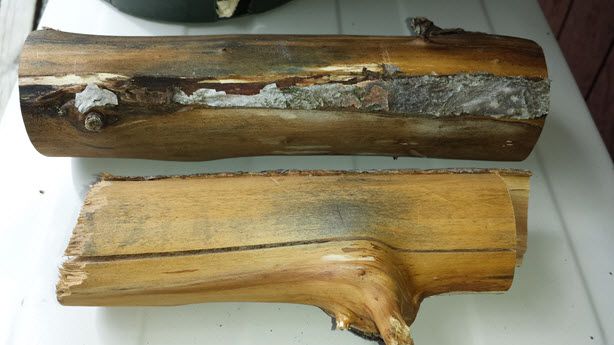 Utilizing a Chop Saw and a Bandsaw to Cut the Apple Wood Chunks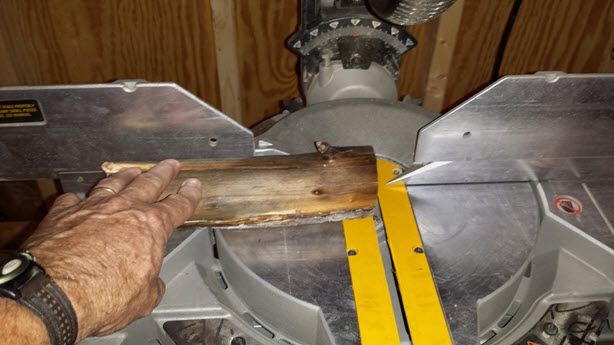 The Final Result after Cutting the Apple Wood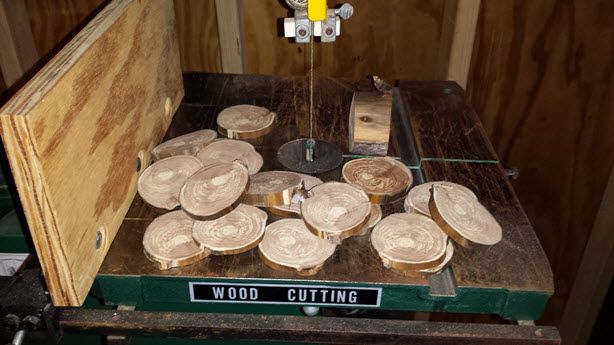 How to use Wood Chips for Smoking
Adding Apple Wood for Smoking to my Weber Grill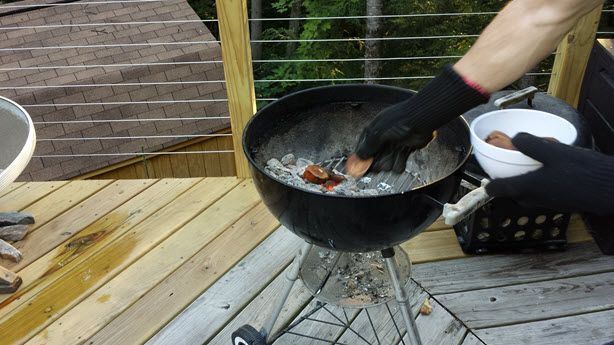 Using my Weber Grill and Wood Chips for Offset Grilling a Whole Chicken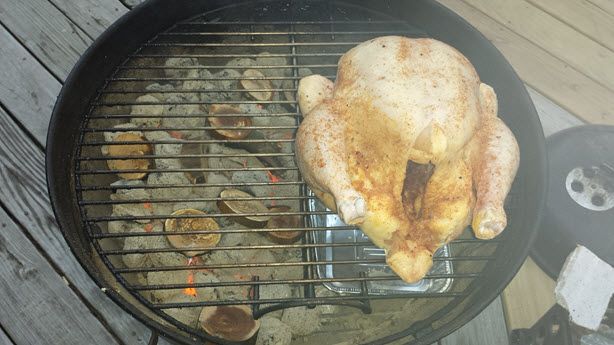 The smoke flavor that my DIY apple smoke wood chips added to our barbecue chicken was phenomenal. I hope you use this article to help you learn how to make your own smoking chips because it's fun and it saves you some money!
Recap of How to Make Wood Chips for Smoking
Making wood chips for smoking is a DIY project that anyone can take on if you enjoy adding some smoke flavor to your charcoal grilling. As you can see from the above images, there is more than one way in which you can make your own wood chips. I hope this article gives you some ideas on how you can tackle this exercise on your own.
Not only can you use power tools but you can also do so with hand tools such as a hand saw if you don't want to head out to the store to buy them. This is a gratifying experience for me and I hope it is also for you.
If you aren't using a charcoal grill you can check out this resource on using wood chips on gas grill. Wood chips for smoking aren't only used with charcoal. You can easily use them with propane or gas grills.
Frequently Asked Questions about Smoking Chips
1. What types of wood are best for smoking?
When it comes to smoking, the type of wood you use can make a big difference in the flavor of your food. Some woods are stronger or milder than others, and some have unique flavors that pair well with certain types of meat or fish. Some of the most popular woods for smoking include hickory, mesquite, apple, cherry, and oak. Depending on where you live, your access to all of these woods will be limited.
Hickory is a strong, smoky wood that's great for meats like pork and beef, while mesquite is a bold, earthy wood that's often used for grilling and smoking beef. Apple wood, on the other hand, is a milder wood that's great for smoking poultry and fish, as it provides a sweet, fruity flavor that complements these lighter meats well.
Cherry wood is another mild wood that's great for smoking poultry, as well as pork and beef. Any of the fruit woods are great for fish and poultry while oak is a versatile wood that's great for smoking just about anything. Post oak is a popular wood used for smoking briskets in areas such as Texas.
It's worth noting that the type of wood you choose will also depend on your personal preferences and the flavors you enjoy. Some people prefer stronger, more intense flavors, while others prefer milder, sweeter flavors. Experimenting with different woods can be a fun way to discover new flavor combinations and find your perfect match.
2. How long do you soak wood chips before smoking?
Soaking wood chips before smoking is a common practice that's believed to help the chips smoke more slowly and produce a more flavorful smoke. However, there's some debate about how long you should soak your wood chips, with some people recommending soaking for as little as 30 minutes and others suggesting soaking for several hours or even overnight. My rule of thumb is to let the wood chips smoke for at least an hour or two. In fact, I will oftentimes start soaking the wood chips mid-day if am using the charcoal grill that evening.
Just remember that the main point of soaking wood chips is to prevent them from lighting on fire when you toss them in the grill. Just experiment for what works for you and that specific type of wood. If the chips are bigger just allow for a longer soaking so the water will soak completely through the wood.
3. Can you make wood chips without a saw?
If you don't have a saw, there are still a few ways you can make your own wood chips for smoking. One option is to use a sharp knife or hatchet to carefully chop small pieces of wood into chip-sized pieces. It is almost like the ancient art of whittling but you're simply making chips instead of a figurine or a wooden tool. This method can be time-consuming and requires some skill to ensure that the chips are all roughly the same size, but it can work in a pinch.
If you are simply using small branches from a tree such as an apple or cherry variety, you could simply prune the small branches with a hand saw or pruning shears and just cut the branch up into small pieces. Nothing has to be uniform and if the branch is dead it will be brittle and will break up easily and you may not even need any tools other than the strength of your two hands. Just remember you're only looking for small chips of wood that you can soak and able to place on top of hot charcoal.
Bob started this passion site, Life with Grilling, in 2012. Life with Grilling has been a trusted source for grilling and barbecue tips, techniques, and accessories for over 10 years. Bob has been charcoal grilling for most of his adult life and smoking meats using a personally-configured stick-burner Brinkmann smoker since 2012.
His passion for charcoal grilling was instilled into him by his father who used charcoal on a basic grill to cook for his family on warm summer nights. Charcoal grilling and tending to his smoker has been a happy pastime of Bob's, especially as he enters his retirement years. His love of all things grilling and smoking has allowed him to review the best charcoal grills and grilling accessories available in the martketplace and to develop many recipes, grilling tips, and techniques over the years. He is eager to share his lifelong grilling experiences and expertise through Life with Grilling!